Government has been called upon to embark on the re-orientation of pastoralists and farmers in order to ensure harmonious co-existence between both parties.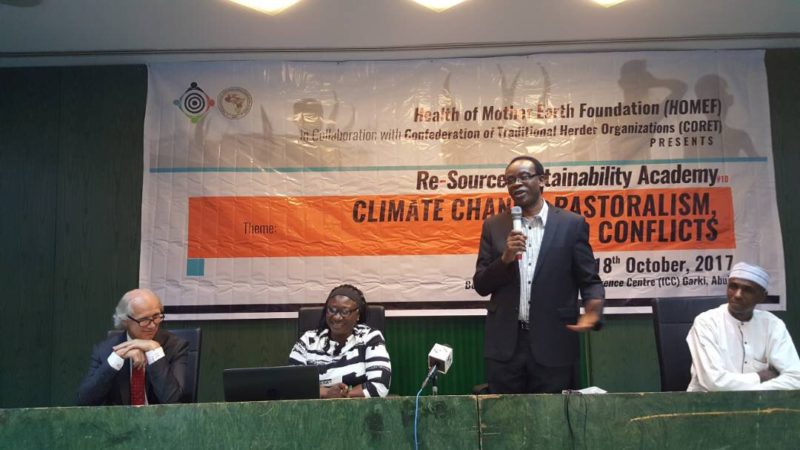 The call formed part of resolutions at the 10th Sustainability Academy of the Health of Mother Earth Foundation (HOMEF) held on Wednesday, October 18, 2017 in Abuja. Themed: "Climate Change, Pastoralism, Land And Conflicts", the daylong forum was organised in collaboration with the Confederation of Traditional Herder Organisations (CORET).
While emphasising that both are interdependent and their actions can be mutually beneficial, participants noted that ongoing conflicts between pastoralists and farmers are needless and distorts development efforts.
"Pastoralists and farmers have lived in harmony in Nigeria and can do so now," the gathering submitted in a communique, adding that there should be greater engagement of extension workers by all levels of governments to effectively engage in communicating climate change to farmers and pastoralists.
The fact that climate change impacts differently on different categories of people should be considered in preparing climate actions, resolved the gathering, adding that the Great Green Wall programme aimed at combating desertification and the preservation of small water bodies and rivers should incorporate pasture development.
Government was further asked to carry out livestock development policy review to align them with regional and international practices, even as it initiates actions to produce a detail land use plan for the country.
To address the impacts of climate change and prevent incessant crises between farmers and herders that arise as a result of land and other environmental issues, the Academy further recommended:
Youth restiveness should be addressed by all stakeholders through capacity building, mentoring and skills diversification. Development partners have a role to play in this direction.
There is need for public-private partnership and scientific re-orientation for the development of pastoralism in Nigeria.
Herders should adopt the practice of managed intensive systematic rotational grazing.
In the brokering of peace and the implementation of all forms of conflict management initiatives, it is pertinent that women are carried along. Their full participation and inclusion should be entrenched in such processes.
Media should engage more in investigative journalism in reporting conflicts rather than stereotyping pastoralists and others.
The Federal Government should create a Ministry of Livestock and Fisheries as is obtained in several other African countries like Ethiopia, Kenya, Cote D'Ivoire, Senegal, Mali, Niger and Tanzania
Climate change is not a boundary-limited issue. Nigeria should approach this issue from this perspectibe in pursuing adaptation, funding, resilience and mitigation strategies in communities.
There is need to take inventory of the all existing grazing reserves, traditional grazing areas, transhumance corridors, major stock routes, fully develop at least one per state in line with the recommendations of the recommendations of the Inter-Ministerial Committee on Livestock Development in Nigeria of 2015 and implement the Report of the Presidential Committee on Pastoralism and Insecurity.
Discussions on the subject matter were preceded by two presentations which instigated discussions among participants after an overview from the convener, Nnimmo Bassey, head of HOMEF, who stressed that the gathering was for the sharing of knowledge and finding ways by which the conflicts occasioned by climate change can be addressed.
The first presentation was delivered by Priscilla Achakpa of the Women Environmental Programme (WEP), and titled: "Climate Change, Pastoralism and Land Conflict: The Gender Perspective", while the second presentation by Mohammed Bello Tukur centred on the topic climate change, pastoralism and land conflict was made by Jaoji A. Alhassan on his behalf.
After exhaustive discussions on the issues raised in the presentations, all the participants agreed that climate change is a global threat to human security and it impacts are contributory to conflicts in Nigeria. The Academy noted that pastoralists, farmers, women and children are some of the most vulnerable groups in Nigeria.