Hundreds of residents in various parts of llorin, the Kwara State capital, have been rendered homeless by rainstorm, following downpour which lasted for over three hours in the evening of Saturday, March 17, 2018.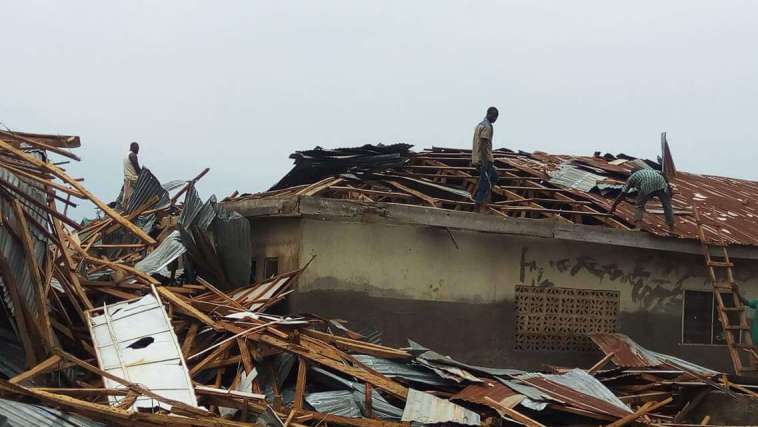 The News Agency of Nigeria (NAN) reports that some of the affected houses, which had their roofs blown off by the storm, were in densely populated areas of the township.
NAN observed that several belongings of the victims including clothing, food items, electrical gadgets and other valuables littered the ground in the affected areas.
Some of the affected areas in llorin and its environs were Ganmo, Gaa Saka, Alore Guniyan, Agbooba, Adewole, Kuntu, Magaji Ogidi compound and Okelele among others.
One of the victims, Alhaji Oba Aremu, who resides at Magaji Ogidi compound, Ojuekun area of llorin, told NAN that his residence was completely damaged by the storm.
Aremu explained that he and his 15 family members were currently taking refuge in a small place given to them by the Magaji Ogidi, Alhaji Salihu Amosa-Ajape.
Another victim, Alhaji Asinmi Aliyu, who is a landlord of a six bedroom flat at Agbooba in llorin, said that he was yet to quantify things damaged by the rainstorm in his house.
In their separate reactions, some of the victims appealed to both the state and local governments to come to their aid and give them necessary support.
Most of the affected areas are still in total blackout following damages to electric poles and cables.
The Senior Special Assistant to Governor AbdulFatah Ahmed on Media and Communications, Dr Muideen Akorede, while reacting on the development on Sunday, said the state government symphatised with the victims over the incident.
Akorede assured that appropriate agencies of the government would embark on inspection of all the affected areas with a view to support the victims.
Some of the affected residents are now taking refuge in mosques and some with neighbours.
By AbdulFatai Beki