The Lagos State Government has expressed readiness to confront emergencies that will arise due to the 2023 rainy season.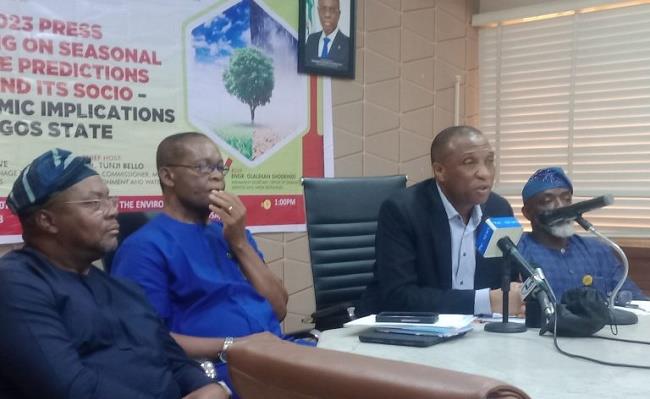 Mr Tunji Bello, Commissioner for the Environment and Water Resources, stated this at a news conference on the year 2023 seasonal climate predictions and its socio- economic implications for the state on Thursday, March 30, in Lagos.
Bello said that it was the tradition of the state to annually alert Lagos residents of the predicted rainfall patterns and its socio-economic implications.
The commissioner noted that the Nigerian Meteorological Agency (NiMet) had on Jan. 24  released the 2023 Seasonal Climate Prediction (SCP), a forecast of the expected rainfall and temperature patterns spanning the entire country.
He said that, by NIMet prediction, Lagos would experience slightly above average rainfall amount and season length.
Bello, however, said rainfall from neighbouring Ogun, Oyo and Osun states coming into the state would result in increasing water levels which would continue to be monitored.
"The rainy season is expected to start in the first week of April and cease in the first week of December, while the average annual rainfall amount predicted is 1936.2mm.
"This amount is greater than the long-term average of 1721.48mm for the state over the last 10 years.
"Specifically, Ikeja is expected to have an onset date of April 3, cessation date of Dec. 20 and an annual amount of 1900mm.
"Badagry is expected to have a rainfall onset date of April 1, cessation date of Dec. 4, and an annual amount of 1978mm.
"Ikorodu is expected to have a rainfall onset date of April 3 with a cessation date of Dec. 2 and an annual amount of 1903mm," Bello said
According to him, Lagos Island is expected to have a rainfall onset date of April 2 with a cessation date of Dec. 3 with an annual amount of 1936mm.
He added that Epe was predicted to have a rainfall onset date of April 1 with cessation date of Dec. 3 and an annual amount of 1952mm.
Bello said that it was also expected that the recent increase in the frequency of extreme weather events would continue in 2023, with days of extremely high rainfall amounts that may result in flooding.
"Largely because strong winds are expected during the onset and cessation of each rainfall, harmattan is expected to cause a reduction in visibility, resulting in flight disruption and revenue loss due to delays and cancellations.
"It should be noted that the state has deployed its own network of weather stations as well as river gauge stations to monitor the weather in our state as well as increase our preparedness for weather and flood related issues.
"The ministry is also collaborating with NiMet in the area of annual Seasonal Climate Prediction which has been valuable as a vital weather and early warning tool for farmers, planners, decision makers and operators of the various sectors and businesses that are likely to be impacted by the annual rainfalls.
"We must also state that there are plans to downscale the National Seasonal Climate Prediction for stakeholders like farmers and emergency workers locally.
"We want to assure you that our state will continue to reap the benefits of careful and rigorous planning, as our flood control measures are being stepped up to contain any imminent rainfall.
"To ensure a flood-free and hygienic environment in the state, the Ministry has always embarked on an all-year-round drainage maintenance programme for effective and efficient flood control, in addition to an efficient and sustainable solid waste management system. This year will not be different," Bello said.
He said that the state was also stepping up pro-active measures to reduce the prevalence of plastic waste and also create a circular economy in line with recently approved draft plastic waste policy for the state.
Bello said that the state government would maintain the long-established synergy and partnership with the Ogun-Oshun River Basin Development Authority to effectively contain flooding.
"This mutual relationship has been highly beneficial in the past, and will be sustained," Bello said.
He said that the Lagos State Signage and Advertisement Agency, in line with its ministerial responsibility, would ensure that advertising and communication agencies comply with regulations on the safety of billboards and telecommunication masts.
He said that compliance was important to prevent the incidences of telecommunication mast collapse caused by the high velocity of the wind that may be expected during the onset and cessation of heavy rainfalls.
"We will also put all emergency response organisations, traffic management organisations, and other emergency-related organisations on high alert to help lessen the detrimental effects of thunderstorms and associated rains in the state," he said.
On the issue of flooding, Bello said that it was normal to have occasional flash floods when it rains, which will percolate or drain off rapidly.
He said that it was only when flooding remains on the roads for hours that we can report that the place is flooded.
"I, therefore, wish to plead with the media to avoid sensational headlines that cause panic."
"Another contributory factor to flooding which everyone should be cognizant of is lagoon level rise. Anytime there is high tidal movement, it may "lock up" the discharge points of drainage channels and until it recedes, there will be no discharge.
"Such occurrences also cause backflows, resorting to flooding. But as soon as the lagoon recedes, all the generated storm water will immediately discharge, and our roads will be free.
"The pro-active administration in the state, in response to the above phenomena, has strengthened the Flood Early Warning Systems to deliver reliable, timely and effective flood information at an appropriate response time.
"Ladies and gentlemen, we will intensify our enlightenment efforts to sensitise and advise communities and residents in coastal and low-lying wetland areas of the state.
"Like the neighbourhoods of Agiliti, Agboyi, Itowolo and Ajegunle communities, to move upland to avert needless loss of lives and property when the need arises.
"We will also continue to protect our water bodies from indiscriminate discharge of solid waste as well as erection of illegal structures along the drainage alignment/setback," Bello said.
The commissioner urged residents and motorists to refrain from dangerous acts of driving through moving run-off or flood water during this year's rainy season .
He said such acts could result in submerging of vehicles and loss of lives in addition to observing prescribed speed limits on the roads because the surface will be more slippery.
The commissioner said that densely built and fully paved ground surface areas typical of Lagos have distorted the normal hydrological cycle in the state and given rise to increased surface runoff resulting in flood incidences.
"Hence, our Ministry is introducing Sustainable Urban Drainage Systems (SUDS).
""SUDS mimics nature, using man-made features such as soak-aways, ponds and gently sloping channels to attenuate and treat urban runoff.
"It focuses on prevention of runoff and source control rather than end- of pipe solutions.
"The beauty of the application of SUDS lies in the fact that if every tenement can manage its generated storm water, then there will be little or no need for costly public drainage system," Bello said.
The commissioner appealed to Lagos residents to refrain from acts that can lead to flash flooding.
He warned against indiscriminate dumping of refuse in unauthorised places, clogging of drains with silt or construction materials, erecting building structures within and around drainage right of ways and setbacks.
"Residents are advised to report cases of drainage blockages, dumping of waste into canals and other unauthorised places to our Resident/Drainage Engineers and zero tolerance offices that are available in all our 57 LGAs and Local Council Development Areas to attend to all drainage related matters during and after the rainy season.
"We will also continue our collaboration with authorities at the Local Government and Local Council Development Areas toward putting in place their own version of Emergency Flood Abatement Gang for monitoring of tertiary drains to ensure free flowing drains into the secondary and primary collectors," Bello said.
Some of the dignitaries at the event included Olalekan Shodeinde, Permanent Secretary, Office of Drainage Services and Water Resources; Joe Igbokwe, Special Adviser to the Governor on Drainage Services and Water Resources; Dr Omobolaji Gaji, Permanent Secretary, Office of Environmental Services; and other senior members of the ministry.
By Fabian Ekeruche