Radioactive water overflowed into groundwater at the Indian Point nuclear facility in New York on Saturday, resulting in increased radioactivity at the site. The contamination did not go offsite and doesn't pose a threat to the public. Indian Point is located about 35 miles north of New York City and has been under more scrutiny from Governor Andrew Cuomo for a string of incidents in the past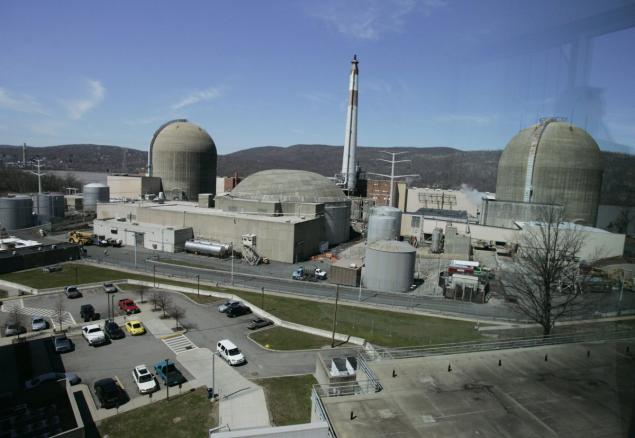 Radioactive water overflowed into the groundwater at the upstate Indian Point nuclear power plant, officials said on Saturday.
Gov. Cuomo said the plant's operator, Entergy, reported "alarming levels" of radioactivity at three monitoring wells, with one well's radioactivity increasing nearly 65,000%.
The Buchanan plant reported that the contamination did not migrate offsite and does not pose a threat to public health.
Cuomo said he was informed of the tritium-contaminated water leak on Friday and asked the Department of Environmental Conservation and the Department of Health to investigate the incident.
"Our first concern is for the health and safety of the residents close to the facility and ensuring the groundwater leak does not pose a threat," Cuomo said.
The site, roughly 35 miles north of New York City, has been under increased scrutiny from Cuomo and other officials following several incidents. In December, Cuomo ordered an investigation into Indian Point after a series of unplanned shutdowns, citing potential risks to both the city and surrounding suburbs.
Cuomo said the "latest failure at Indian Point is unacceptable."
According to Neil Sheehan, a spokesman for the Nuclear Regulatory Commission, the leak occurred after a drain overflowed during a maintenance exercise while workers were transferring water containing high levels of radioactive contamination.
A sump pump that would normally filter the water into another treatment system was out of service, Sheehan said.
Other state officials also blasted the controversial nuclear facility's most recent mishap.
Assemblywoman Ellen Jaffee (D-Suffern) said she was concerned not only for the surrounding community but also for the "impact this radioactive water may have on public health and our environment," Jaffee added.
By Dennis Slattery (New York Daily News)