A PDP member representing the Argungu Constituency in the Kebbi State House of Assembly, Alhaji Umar Na'amore, has called on the Federal Government to spray pesticides on invading quelea birds in their farms in the area.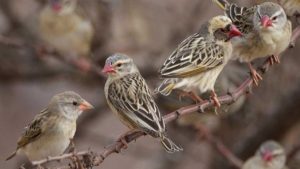 Na'amore, who made the call in an interview in Birnin Kebbi, the state capital, on Sunday, June 25, 2023, said: "The people of Argungu Local Government Area of Kebbi State, appeal to the Federal and Kebbi State Governments to conduct spraying of pesticides to kill invading quelea birds in our farms in order to curtail the further loss of crops in the area.
"Quelea birds have ravaged almost 95,000 hectares of dry season rice plantations in the state, in which our area is affected hugely which may have attendant food security implications."
Na'amore said it was on record that most of the farmers in the area had taken loans from Labana and WACOT rice mills, among others, to embark massively on farming in order to help the country in its efforts to have food security and produce what we eat.
Quelea birds are small-sized, sparrow- or finch-like gregarious birds, with bills adapted to eating seeds. Queleas may be nomadic over vast ranges; the red-billed quelea is said to be the most numerous bird species in the world.
"As the rainy season has started, we are taken aback to the invasion and attacks of quelea birds migrating from neighbouring countries of Benin and Niger Republic.
"The migratory birds as quelea birds, locusts and grasshoppers constitute serious threats to cereal crops like rice, wheat, maize, millet and sorghum, among others in our area.
"This is because of our strategic location that makes it a significant flash point for entry of migratory pests into the country," he said.
The lawmaker also urged the governments to provide relief assistance to the affected farmers to recover from their losses.
"We are also appealing to the rice milling companies that offered loans assistance to the affected farmers to extend the redemption of the loans' period to next year – 2024.
"A farmer whose farm has been invaded by the destructive quelea birds has no money to embark on another farming; then how can he pay back the loan he collected after he had invested them in farming that he incurred losses of crops?" he queried.
By Ibrahim Bello