The Publisher and Editor-In-Chief of EnviroNews Nigeria, Mr Michael Simire, has underscored the importance of the media in facilitating sustainable practical solutions to the global plastic pollution.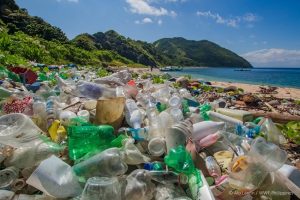 Simire said this while speaking at the PUNCH Digital Town Hall on World Environment Day with the theme: "Plastic Pollution in Nigeria: Innovations and Solutions for a Sustainable Future".
The webinar was organised by the PUNCH Media Foundation on Wednesday, June 21, 2023, in Lagos.
Simire, in a presentation titled "Role of media in facilitating sustainable practical solutions to plastic pollution and attendant challenges", described plastic pollution as the accumulation in the environment of synthetic plastic products to the point that they create problems for or adversely affect human population as well as wildlife and their habitat.
He said that plastic pollution had become a global problem and one of the most pressing environmental issues.
According to him, the media has a duty to create awareness on proper waste management among individuals and households.
He said that the media should be an ally in educating the public by disseminating information on environmental matters, undertake campaigns that engage and educate local communities on plastic waste which could spur community action and affect consumer choices.
"Information campaigns have been used to encourage people to reduce plastic consumption.
"Increase public understanding and shape community perceptions on the dangers of plastic pollution and available solutions, thereby empowering more people and organisations to take action.
"Media coverage can play an important role in creating social norms and consumer pressure for companies to reduce plastics and better manage wastes.
"Social media has become the most prevalent and influential form of communication in this current era. Studies have shown that social media can effectively influence consumer behavior towards plastic consumption,'' Simire said.
The publisher of the online platform said that media attention could have some impact in driving new regulation.
He said that business resistance to Kenya's ban on single-use plastic bags in 2018 was overcome by pressure from activists and the impact of the social media hashtag #banplasticsKE, which was changed to #IsupportbanplasticsKE.
He said that heightened media coverage could encourage greater public engagement with plastics.
He noted that mounting public concern about plastics pollution in recent years had been driven at least partly by heightened media coverage of the issue.
He said that increased media coverage has created momentum for local regulations to reduce or clean up plastic debris such as in Norway and the US.
"Local actions can sometimes accumulate into national regulation.
"For instance, the introduction of a plastic-bag ban by the Pucón municipality in southern-central Chile in 2013 sparked intense media coverage because of the novel and radical nature of the measure.
"The subsequent adoption of local regulations by 62 other municipalities prompted national media, public, scientific and political debate that culminated in a country-wide ban in 2018,'' Simire said.
He said that in spite of the critical roles the media could play in putting an end to plastic pollution, there were still challenges.
He noted that some media platforms do not consider environmental/plastic pollution articles as "sellable" compared to business and politics news items.
He said that there were limited incentives to environmental journalists as some media platforms barely commit resources to the area.
He pointed out that articles critical of plastic products producing firms were more likely to be met with stiff resistance from manufacturers, firms and government officials.
"Researchers have argued that public attention rarely remains focused on individual issues for long periods, even those that pose a serious threat, such as plastic waste pollution.
"Environmental and plastic pollution articles are only prevalent in the news when there are accidents or special/dedicated events," Simire said.
He urged media organisations to see environmental issues as a social duty and make them a priority in terms of news space and resources allocation.
He added that journalists should go the extra mile to seek avenues to build their capacity on the subject, initiate and write impactful and human angle stories that could effect change.
Simire said that since public attention rarely remains focused on individual issues for long periods, journalists and media houses should ensure consistent and sustained awareness campaign on plastic pollution and other environment-related topics.
He said that environmental and plastic pollution news should continually be published, not only when there are occasions or accidents.
He urged firms and government bodies to collaborate with the media in disseminating information on plastic pollution and other environmental management related activities.
Moderated by Deborah Tolu-Kolawole, Multimedia Journalist and Contributing Member, Editorial Board of the PUNCH Newspapers, the webinar also featured speakers like Dr Dolapo Fasawe, General Manager, Lagos State Environmental Protection Agency (LASEPA); Prof. Antoinette Ofili, Professor of Public Health and Community Medicine & Consultatnt Community Pysician, University of Benin Teaching Hospital; Oluyomi Banjo, Environmental Expert and Project Coordinator, United Nations Industrial Development Programme (UNIDO); and Dr Adenike Akinsemolu, Lecturer and Founder, Green Campus Initiative.
By Fabian Ekeruche