WaterAid Nigeria has appealed to the government and the Organised Private Sector to provide access to safe drinking water to underserved communities in the country.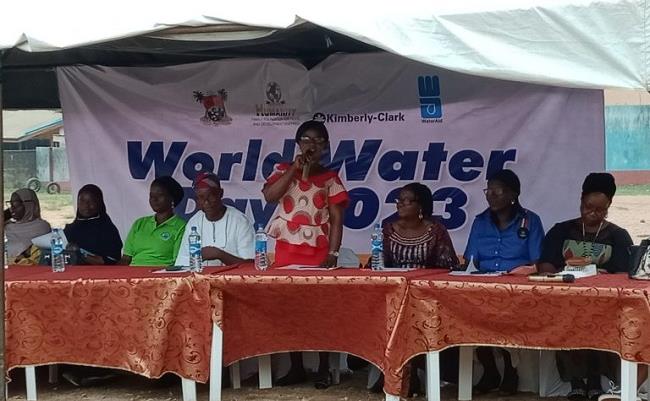 The Country Director, WaterAid Nigeria, Evelyn Mere, made the appeal on Wednesday, March 22, 2023, in a goodwill message to mark the 2023 World Water Day in Lagos.
March 22 every year is set aside by the global community to mark the World Water Day. The theme of the celebration is: "Accelerating Change."
Represented by the Executive Director, Humanity Family Foundation for Peace and Development (HUFFPED), Mr Henry Adenigba, Mere said that the Water Day celebrates one of the earth's resources.
Mere said that the day amplified the call to action for all stakeholders to do more in addressing the plight of the people living without access to safe water globally.
According to her, water is crucial to overcoming many of the biggest challenges the world faces today.
She said that water was essential for health, food security and climate resilience, among others.
Mere said that the latest reports by the World Health Organisation (WHO) reveal an outbreak of cholera in 22 countries worldwide with one billion people in 43 countries at risk.
She said that the upsurge continues where water and sanitation infrastructure remain fragile, especially in countries within Africa.
"Invariably, this points to the importance of water, sanitation and hygiene as crucial in helping communities build resilience to the effects of climate change.
"We have proved that real progress is possible with increased access to Water, Sanitation and Hygiene (WASH) achieved in the last 20 years.
"But this is still top slow; even more so, the outbreak threatens to reverse the progress," Mere said.
She said that data from the 2021 WASHNORM survey showed that 96 per cent of households in Lagos State have access to basic water supply.
"However, about 85 per cent are served through private boreholes and service providers.
"This compromises quality as these water sources could be unfit for consumption and exacerbates the risk of water borne diseases," Mere said.
She said that the 2023 theme "Accelerating Change" was apt as it beckoned on everyone to play their part in ending the water and sanitation crisis.
She said that citizens need to make a difference by changing the way they use, consume, and manage water and the willingness to pay appropriate tariffs to ensure cost recovery for sustainability.
Mere said that governments of the world need to make sanitation and hygiene a top national priority by investing in viable and sustainable water systems that deliver value.
She added that the government should also champion these as the key drivers of economic development, health, gender equality and climate resilience.
"WaterAid is currently working with stakeholders to build a business case to secure funding from development finance institutions to attract funding to rehabilitate a major water scheme.
"This is to demonstrate what is possible to increase access to safe water for the people of Lagos through effective and functional public utilities.
"We will appeal to the state government to expedite action on the commitment to having a state WASH policy and the need to have funds budgeted for sustainable functional and sustainable water facilities in health care facilities, schools and communities.
"We commend the efforts of the state government under the leadership of Gov. Babajide Sanwo-Olu and the Commissioner for Environment and Water Resources, Mr Tunji Bello, for their efforts in providing water, sanitation and hygiene services to the people of Lagos State.
"To stay on track with the 2030 target for the SDG 6; rapid progress happens when WASH policies and programmes have the full backing and leadership of governments.
"Support from development partners and the private sector can accelerate progress even further. To this end, WaterAid reiterates its continuous support to the government and people of Lagos State to realise this goal," Mere said.
Also speaking, the Permanent Secretary, Office of Drainage Services and Water Resources, Olalekan Shodeinde, said that the Day emphasises the need to speed up efforts toward achieving sustainable water management practices.
Represented by Mrs Helen Taiwo, Director, Water Resources, Shodeinde said that water is a vital resource for life on earth and its importance cannot be overemphasised.
"However, despite its critical role in sustaining life, access to safe and clean water remains a significant challenge worldwide.
"We are honoured to have with us here representatives of WaterAid Nigeria, Nigerian Bottling Company, School Environmental Health Club (SEHC) members from primary and secondary schools and Ojodu LCDA, in the spirit of collaboration..
"To accelerate change and secure progress water, sanitation and Hygiene, the Lagos State government in collaboration with the private sector are working together to promote sustainable water management practices.
"This includes investment in infrastructure and technologies that improve access to clean water, reducing water waste while promoting water conservation and efficiency.
"In achieving this, the needs of women and girls, the vulnerable and marginalised communities must be taken into account in order to deliver access to clean water and safe sanitation," Shodeinde said.
The event was organised by WaterAid in collaboration with the Lagos State Government with the support of Coca Cola Bottling Company, Kimberly–Clark Foundation and HUFFPED.
Students of the various schools present made various presentations to underscore the importance of water to human life.
By Fabian Ekeruche