Chimpanzees – which share some 99 per cent of their DNA with us – are in trouble, despite national protection efforts across Africa, says the world-renowned conservationist Ian Redmond.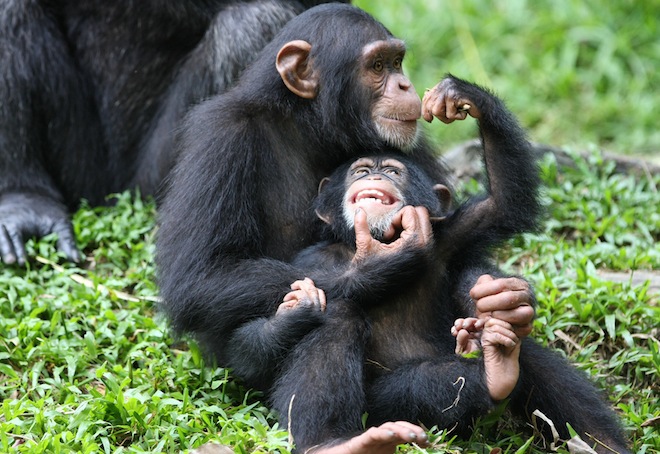 "Although our zoological next of kin with the widest distribution of any ape apart from ourselves, they are an endangered species.  Most are declining in number – victims of habitat loss and poaching – and have been extirpated in at least three, possibly five other countries," he said.
Redmond, Ambassador to the Convention on Migratory Species (CMS), who made the submission in the Philippines while participating in the 12th Session of the Conference of the Parties (COP12) to the CMS, which held in Manila from October 23 to 27, 2017, agreed to list chimpanzees on both its Appendices to offer them much-needed trans-border protection.
"Long-term research sites in several countries have revealed that chimpanzee communities utilise territories from 7 km2 to 32 km2 in forests and up to 65 km2 in savannah habitat, and that the males often defend their territory by going on a boundary patrol. They also appear able to hold a mental map of their local area, and be able to predict when fruit trees come into season.
"Consider then, the matrix of chimpanzee territories that stretches across what is left of Africa's forest belt, then superimpose the political map of national boundaries. In a few places, where political borders follow rivers or mountain ranges, the human territories might match those of chimpanzees, but mostly the lines we draw through contiguous forest result in chimpanzees moving back and forth across national boundaries. And this can have consequences if the level of protection is different on either side."
It is for this reason that chimpanzees, although not normally considered migratory, are in critical need of joined-up conservation measures – and where the CMS can step in, Redmond said. "Listing on the Appendices of CMS does not just mean adding the species' name on a piece of paper. It provides stronger legal protection and a framework for collaborative action ranging from joint anti-poacher patrols to higher penalties when wildlife criminals end up in court."
It is illegal to hunt chimpanzees in all the 21 Range States, and by definition hunting them is poaching whether inside or outside a protected area. Despite the efforts of law enforcement agencies and the support of many donor countries, NGOs and IGOs, hunting still presents a serious threat and is responsible for many of the reported declines – in some countries.
Conversion of forest into farmland, the growth of extractive industries, an increase in major transportation infrastructure – regarded as key to Africa's development – are all cited by the International Union for Conservation of Nature as impacting the chimpanzee's habitat. They also suffer from a range of tropical diseases, further threatening the species.
Humans benefit from chimpanzees in many ways: People want to see them in the wild and ecotourism provides much-needed income for local communities. Apes are also among the most important seed dispersal agents in African forests.
"Given the importance of forests for climate stability, protecting them is in our own interest – we need to ensure the next generation of trees," Redmond concluded.