Greenpeace Africa and Earthlife Africa Jhb activists on Thursday, November 30, 2017 confronted the Department of Environmental Affairs of South Africa by blocking the main entrance to the Department ​with nuclear barrels. The activists made a public demand that the Department of Environmental Affairs withdraws the environmental authorisation that has been issued for a proposed nuclear power station at Duynefontein, adjacent to Koeberg in the Western Cape.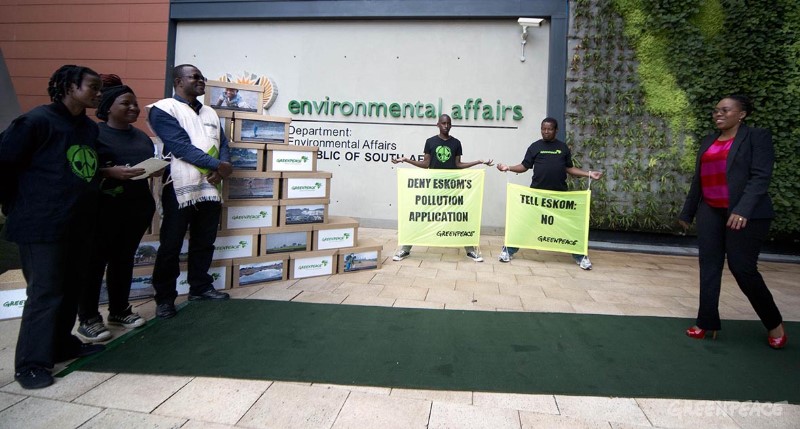 At dawn, Greenpeace Africa and Earthlife activists unloaded nuclear barrels filled with smoke and simulated a nuclear disaster. The activists held banners stating that nuclear is never safe and that South Africans say no to nuclear. The main message 'Stop Nuclear, Protect our Future' is being displayed on a massive banner, which is hanging from the entrance to the building itself. The protest highlights the fact that nuclear is dangerous and expensive and should not be under consideration in South Africa.
"The Minister of Environmental Affairs is the custodian of the environment for South Africa. The Minister is tasked with ensuring that our constitutional right to a healthy environment is protected for current and future generations. Approving the construction of a nuclear power station is outright negligence and the Minister is putting all South Africans at risk, including future generations. South Africans are clearly saying no to nuclear, and there is no point coming to work if you are going to completely fail to do your job," said Melita Steele, Senior Climate and Energy Campaign Manager for Greenpeace Africa.
The Environmental Impact Assessment (EIA) for the new nuclear power station has been a drawn-out process for nearly a decade, with affected communities, civil society and South African citizens conned into contributing to what has been a flawed process from the start. The Minister has chosen to discard the input of civil society and follow the recommendations of a flawed EIA report, which were based on outdated, and incomplete information, as well as assumptions that are not justified or justifiable.
"The 30-day period for South Africans to appeal the environmental authorisation for Duynefontein comes to an end tomorrow. Earthlife Africa and Greenpeace Africa are here to show our opposition to the construction of a new nuclear power station in this country, and to call on the Minister to withdraw her approval. Our activists will continue to blockade the entrance until our demands are met. We are calling on all South Africans to support us in our appeal to the Minister to retract the authorisation for Duynefontenin." said Makoma Lekalakala, Senior Programmes Officer for Earthlife Africa, Johannesburg.
A detailed appeal will be submitted to the Minister ​on Friday. Greenpeace, Earthlife Africa and SAFCEI will consider their legal options in terms of the way forward, pending a decision on the appeal by the Department of Environmental Affairs.