Technical negotiations during the first week of the climate talks in Lima (COP20) have mostly gone smoothly, but important negotiating-team level discussions on a handful of key issues need to conclude this week so that there is wide agreement on the range of options facing the Ministers as they arrive early next week to pick up the high-level negotiations.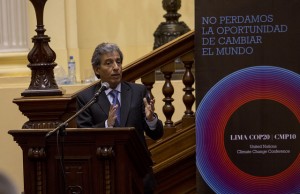 Negotiations are focussing in on critical elements including the nature of country pledges for the upcoming Paris agreement, pledges known as intended nationally determined contributions (INDCs). Countries will need clarity on the rules and format for these pledges as they are due to be delivered in the next three to six months. One key issue that Ministers must contend is the time period the pledges will cover.
"The timeframe issue is our key worry," explains Li Shuo from Greenpeace China. "A short commitment period would do a lot of good things but it hasn't been discussed in an extensive manner. We learnt from the Kyoto Protocol that an 8-year period makes it very difficult to ratchet measures up as changes take place in the real world.
"In China, for example, things are changing fast, coal consumption is down 1-2% this year. The Marshall Islands have sent a very positive signal, arguing for a 5 year commitment period that can capture the most relevant and fresh circumstances in the real world. Countries will submit their INDCs early next year so we need to make progress over a short-term commitment period here in Lima."
Discussions about what actions need to be taken to tackle climate change before 2020 have been noticeably absent from the negotiations so far. Although the The Paris Agreement is set to be reached in 2015, it won't kick-in until 2020, leaving unaddressed what action countries should take in the six years before then.
Shuo explained, "We are already approaching the end of the week and we are worried that we won't have enough time to discuss this vital element of a draft Paris agreement. We need to ensure that countries are sufficiently prepared to capture the low hanging fruit. This is about securing short-term actions that countries can take that will form the basis for ongoing climate action."
Negotiators also need to focus on how a Paris agreement would help countries affected by climate change adapt to the challenges that they face. A new UNEP report shows reveals that the cost of this adaptation could reach $150 billion by 2030, underlining how vitally important this aspect is.
"We believe there won't be agreement in Paris if adaptation is not included in the draft of the agreement – most countries asking for it. Fortunately the talks are going smoothly and we are making progress on this issue," said Tania Guillén from Centro Humboldt Nicaragua/SUSWATCH.
When ministers arrive for the high level negotiations next week will have to decide whether the current structure of the draft Paris agreement provides those suffering from climate impacts that are "locked-in" with enough support or whether a new mechanism needs to be established to compensate for loss and damage.
Many delegations are seeking for a clear pathway to ramp up financial and technological support. "We think that $10 billion already pledged by rich nations is not enough for vulnerable countries to deal with the impacts of climate change," said Guillén.
Ministers also need to discuss the option of having an adaptation goal, an idea that really needs fleshing out. "They have to decide whether this will be part of the new agreement and whether it will be part of the INDCs. If adaptation is included within national climate action plans it will help to reinforce this vital pillar of the entire convention".