The Co-Founder and Executive Director of U-Recycle Initiative Africa, Miss Oluwaseyi Moejoh, on Monday, May 2, 2022, urged youths in Nigeria to take up fundamental roles to tackle environmental issues in the country.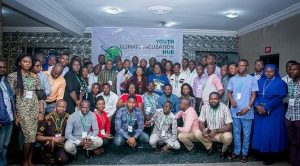 Moejoh, who made the call in an interview in Lagos, called for increased government's participation in efforts to reduce climate change.
"The devastating impacts of plastic pollution and climate change on the environment and human health in Nigeria is rising but sadly little is being done to solve it.
"These issues call for systemic changes at the government level, behavioural changes and informed actions at the grassroots level," she said.
She said that more attention at promoting environmental awareness and education was needed, adding that a lot of Nigerians and youths need guidance on how environmental issues could be tackled.
She also added that youths must take up the roles of environmental stewards to address environmental challenges.
"Youths are energetic and vibrant and when this energy is put toward a cause, it can birth groundbreaking change.
"A fundamental role youths can play is by becoming environmental stewards and advocates who have consciously come to understand the various issues devastating the environment and have practical knowledge on what they can do.
"At U-Recycle Initiative, we believe that through the use of comprehensive environmental education projects, youths can understand the problems the environment is facing and initiate practical solutions to solve them," she said.
She also pointed the need for more awareness and environmental education from the government to motivate the youths to take up their environmental roles.
"There is need for awareness and environmental education.
"It has been discovered that, when you make people understand the consequences of their actions on the environment, they tend to show more concern.
"This can propel them to build lifelong habits geared towards preserving the planet for present and future generations.
"Over time, U-recycle Initiative has implemented projects like movie screenings, awareness events, experiential cleanups and more to enlighten youths about the issues affecting the environment.
"To save the earth, youths must pay close attention to their environment and take necessary actions," she added.
She said there was a myriad of socio-economic issues like insecurity, poverty, political issues, economy setbacks that made it difficult for youths to be concerned about taking action for the environment.
"To address this, U-recycle Initiative utilises various strategies like creative advocacy, storytelling and incentivisation as powerful tools in drawing the attention of young people to the need for meaningful mass action for the environment," she said.
By Henry Oladele and Bayo Olawunmi