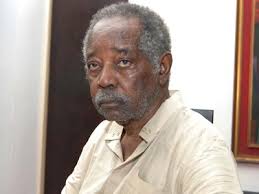 The death of foremost historian and former vice chancellor of the University of Lagos, Professor Ade Ajayi , is dead.
Investigations  reveals that the late university administrator died at the University College Hospital in Ibadan on Saturday, August 9 but the news only filtered in today.
Ajayi, who enjoyed the respect of his peers, students and members of university circles, was renowned for his thorough researches and teaching which is believed to have established the foundation for the study African history.
According to a profile of the late scholar, "As an early writer of Nigerian and African history, Ajayi brought considerable respect to the 'Ibadan School' and African research."
Born in Ikole-Ekiti, Ekiti State in the 1920s, Ajayi started his education at St. Paul's School, Ikole, before proceeding to Ekiti Central School for preparation as a pupil teacher, after which he attended Igbobi College in Lagos.
He studied History at the University of Ibadan, before travelling abroad in the 50s to study at the Leicester University under the tutelage of Prof. Jack Simmons, a brilliant Oxford-trained historian.
In 1964, he was made Dean of Arts at the University and later promoted a deputy Vice Chancellor before he was the Vice Chancellor of the University of Lagos eventually in 1972.
He was awarded the "Distinguished Africanist Award" by the African Studies Association in 1993 and many of his works include Yoruba Warfare in the Nineteenth Century; Christian Missions in Nigeria, 1841-1891: The Making of a New Elite and General History of Africa.
Several of his former colleagues including lecturers, administrators and students have started paying their tribute to the man highly regarded.