Given the Ministry of Environment's critical role in combating the problem of climate change in Nigeria, the Global Initiative for Food Security and Ecosystem Preservation (GIFSEP) has tasked the President Bola Tinubu administration to consider a qualified candidate when appointing a minister to oversee the Ministry's affairs.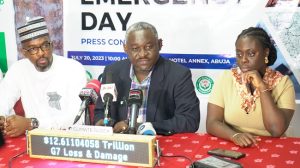 The non-governmental organisation stated at a press conference it held on Thursday, July 20, 2023, to mark this year's Climate Emergency Day in Abuja, that the reason why this is important is because the country's enormous debt burden typically affects its quick response to climate disasters.
"We don't want that key ministry to be given to a normal politician just for compensation," said Michael Terungwa, the founder and executive director of GIFSEP.
According to him, an ideal individual should have a solid background in financial flows as well as negotiation skills to help mobilise resources for Nigerians to protect themselves from climatic vulnerability.
Terungwa went on to say that such a person must also understand how to align the government's emergency declaration in the food industry with climate change actions, which necessitates proper national planning.
He further added that the plan must go beyond political statements and outline a roadmap that will empower farmers to grow indigenous food in order to avoid putting strain on the nation's already-strained resources by importing food.
The roadmap, he elaborated, must include robust climate action for food security, energy, flood control, and resilience, particularly for poor farmers spread across the country. It should also capture and price carbon, with the proceeds going to vulnerable people affected by climate change.
If Nigeria is to progress as a nation, the GIFSEP helmsman urged that the slow response approach of emergency agencies and the mentality of viewing environmental disasters as an opportunity to make money must stop.
To quickly overcome the myriad ecological challenges that Nigeria is currently facing, Joseph Ibrahim, the West African Coordinator (WAC) of the Climate Clock, pointed out that unprecedented citizen resolve and political will would be required.
Ibrahim highlighted that the long-term prosperity of the country is also based on the environment's health, so it is imperative that everyone take action to protect the environment now because there won't be another opportunity.
He explained that the science behind the climate clock tells us that the global community has less than six years to stay below 1.5 degrees Celsius, a deadline he cautioned world leaders to take seriously to avoid the risk of becoming accomplices of delay and devastation instead of the architects of a timely and just transition.
"Climate Emergency Day 2023 serves as a reminder that time is a resource we can't renew," he said.
The WAC suggested that Nigeria should consider climate change issues when addressing its socio-economic problems because the effects of climate change are already having an impact on the nation.
Floods that devastated several communities and cities, as well as farmers' inability to predict rainfall patterns, are all indicators that the country cannot afford to sit back and do nothing, Ibrahim noted.
The climate clock is a global symbol of urgency, combining art, science, technology, and grassroots mobilisation to alert people to the climate emergency and aid in the implementation of hopeful, doable solutions in accordance with the global commitment to the Paris Agreement, which aims to keep global warming below 1.5 degrees Celsius to preserve a livable world for all.
On Saturday, July 22, 2023, at 5:00 p.m. Nigerian time, the climate clock will shift from six years 0 days 00:00:00 to five years 364 days 23:59:59 for the first time in history, signaling the need to act quickly.
By Etta Michael Bisong, Abuja