In recent times, flooding has been a recurrent problem in most parts of the world including Nigeria; there exist reports of flooding in some towns and cities during downpours.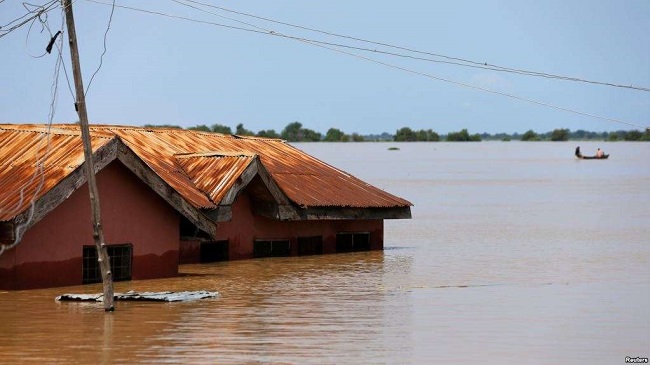 Flood hazard is measured by possibility of occurrence of their damaging consequences, conceived generally as flood risk, or by their impact on society, conceived usually as the loss of lives and material damage to society.
Lots of physical damage is recorded, including destruction of farmlands and houses, economic life has been halted, people displaced, and some lost their lives in the course of flooding.
The menace of flooding in Nigeria came to stay when the country experienced extensive flood in 2012, killing 363 people and displaced more than 2.1 million people.
Other challenges faced by the people included loss of houses, ponds, farmlands, traditional grounds and means of livelihood, destruction of herbs and vegetation, exposure to wild animals.
Wild animals were not spared as their natural habitats were destroyed.
Consequently, some died, most migrated while some took shelter in abandoned houses.
There was an imbalance in the ecosystem and general pollution of the affected communities.
According to the National Emergency Management Agency (NEMA) reports, 30 of Nigeria's 36 states were affected by the floods in 2012.
Since then, the menace of flood in the country has become a persistent issue which draws concern of experts to proffer solutions.
Recently, the Nigerian Hydrological Services Agency (NIHSA) alerted Nigerians to be ready to prevent and manage flood incidents as the country is now in the peak of rainy season.
According to the Acting Director-General of the agency, Alhaji Ahmed Bashar, the flood level and the discharge of River Niger have continued to increase.
"The 2018 Seasonal Rainfall Prediction released earlier in the year by the Nigerian Meteorological Agency (NiMet) gave Sept. 28, 2018 as the earliest cessation date of rainfall in Sokoto and Katsina.
"A flood level (stage height) of 9.67m and a discharge of 20,578m3/5 have been recorded on Sept. 5.
"These figures are higher than the corresponding values of 9.34m and 19,456m3/5 recorded on Sept. 5, 2012.''
In reacting to this persistent menace of flooding, an environmentalist, Mr Lawal Rasheed, has called for proactive measures from the government and the public to forestall perennial flooding in the country.
Rasheed, who is the climate change advocate and co-chairperson of the Advocate for Clean Climate and Environment, a non-governmental, said this had become imperative following the recurring incidents of floods in some states across the country.
The environmentalist said that the adoption of both preemptive and preventive measures would be necessary to mitigate the yearly flooding incidents in the country.
He said that the preventive actions should be geared toward forestalling incidents of extreme rainfall.
"Some of the preventive measures are the construction of drainage systems, canals, proper waste disposal, avoiding constructions on waste water channels and clearing the water ways,'' he said.
He said the preemptive measures which are usually done during the rainy seasons should involve the government and private individuals.
Rasheed said that the preemptive measures should be embarked upon with seriousness as the rainy season commences.
"The preemptive measures should include the clearing of accumulated waste and sand from the drains and sewer systems, as well as the demolition of structures and shanties along the water ways.
"Ensuring that waste waters flow through the right channel and the mending of broken canal walls are also great preemptive measures.''
He said that both the government and the individuals should regard the preventive and preemptive measures as their responsibilities.
In his view, Mr Johnson Eduno, a geologist, advocated installation of flood warning systems to give people more time to act during flooding and also save as an advance warning to reduce the impact from flooding.
According him, flood warning alert device would facilitate efforts to send flood signals to the government and those living in flood-prone areas, adding that this could save people's lives and property on time.
"If this could be installed on major rivers across the country, flood incident would be reduced,'' he said.
Eduno, therefore, called on the Federal Government to strengthen hydrological services agency with modern device such as Water Quality Network to enable the agency to detect flood on time for quick response.
He said the recurrence of flooding in the country was because of insufficient water reservoirs to mitigate the menace of flood.
The geologist also urged states and local governments to play their own roles by constructing earth dams, artificial lakes and reservoirs to check flood.
"Local and state governments should also assist in building earth dams, reservoirs and buffers within their region and their contribution would go a long way to combat flooding in the country," he said.
He also advocated that protecting wetlands, plant trees strategically could act as sponges thereby soaking up moisture while wooded areas can slow down waters when rivers overflow.
Edono further suggested that temporary barriers could also be added to permanent flood defences such as raising or increasing the level of embankments in riversides.
Similarly, Mr Bassey Uwe, a retired Director of Service, Akwa Ibom Water Company, Oron office, described flood as one of the major environmental crises.
Environmentalists, however, note that flooding can be further prevented by proper planning, especially when there are adequate facilities such as drains and, in some cases, dredging of rivers.
By Okon Okon, News Agency of Nigeria (NAN)