Tolani Funsho, 28, recalls how she survived preeclampsia after an emergency C-Section was conducted on her eight months into her pregnancy.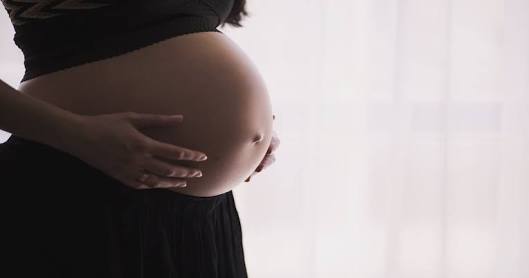 "My ordeal started when I started noticing that my legs and other parts of my body were swollen every day I woke up," said the mother of one, which prompted her to complain to her doctor.
The doctor advised that she was suffering from Edema, without explaining much, only advising her to always place her legs on a pillow when sleeping.
But, according to Funsho, she did not see much improvement in the condition.
"Í started to notice a change in my body at seven months pregnant. Getting to the eighth month of pregnancy, I started seeing mucus without blood stains. I was not convinced about what the doctor had told me, so I started to read up about what causes a woman to swell all over her body during pregnancy," she narrated.
That is when she bumped into the name preeclampsia and began to read up all the symptoms. She got to learn that only a c- section could save her life and that of her baby before it leads to esclampsia.
Funsho prepared herself to have surgery instead of normal delivery, and lived to tell the story. Her baby will soon be five years old.
Preeclampsia is a pregnancy-related hypertensive disorder occurring usually after 20 weeks of gestation. These symptoms are easily identified for women who monitor their weight. Other common symptoms include pain, constant headache and blurred vision.
Aminat Jaji was not lucky to tell her story. She died at delivery, but while her baby survived, it also died three days later. Her relative, Kuburat Olaiwola shared the sad story.
"It was not a good one for us as her family, because we did not know what preeclampsia is or what could have made her all blotted," she said.
"All we noticed was that she was swollen all over her body, her face and legs especially She did not complain of any pain, whenever she walked around ,she felt a bit better." Kuburat explained.
"Though it's quite unfortunate that we lost her even after we agreed to the emergency C-section," she continued. "Eight months into her pregnancy we started to run all sorts of tests. At the end of the day, we were told she had too much protein in her urine."
People with proteinuria have urine containing an abnormal amount of protein. The condition is often a sign of kidney disease. It can be detected through a urine test conducted during a routine physical examination.  Blood tests are then carried out to see how well the kidneys are functioning.
Proteinuria can also be a result of overproduction of proteins by the body, one of its first signs may be proteinuria that's discovered by a urine test done during a routine physical exam. Blood tests are then done to see how well the kidneys are working.
"We did all we could do but at the end of the day we lost her and the baby due to carelessness on the part of health care givers," explained Kuburat.
"Her test results were not properly explained to her," said Kuburat, noting that had this been the case, they would have taken action to manage the condition at the earliest opportunity, to prevent her death and that of the baby.
For Koya Ogunwale, the memory he shared with the love of his life is all he has left. Mariam Ogunwale died because of late detection of preeclampsia.
Maternal health and newborn health are closely linked as more than three million newborn babies die every year, and an additional 2.6 million babies are stillborn, according to statistics from the Pre-Eclampsia Foundation.
But one major point of concern is the lack of knowledge about the condition.
To establish how much knowledge the general public has on this condition, I visited a number of hospitals in Lagos state to speak with sources.
My first stop was at a private hospital, Longing Medicals, where I attended the ante natal classes three times in a row. I had a long chat with the senior nurses who take the classes, one of who told me she only knows about edema as they always check protein in the urine as a matter of routine.
It is instructive to note that many health centres in Lagos only talk about how the expectant women can take care for her during pregnancy. Major topics discussed are nutrition, care for the baby once it arrives and regular exercises to promote smooth delivery.
Toyin Ayeni is one of the women I spoke with at the Lagos State Teaching Hospital, Idi Araba.
"This is my first time to hear about preeclampsia. I only know edema, the condition in which ones legs are swollen," she said.
The case is not different for women in Ifako-Ijaiye General hospital, where Ajike Akinwande said it is high time women knew other imminent threats during pregnancy.
"Sincerely preeclampsia sounds new to me, I always hear of maternal mortality but I didn't know this contributes largely to it," she explained.
Preeclampsia is one of the major causes of deaths of the mother and child at birth, but also accounts for pre-term births in developing countries like Nigeria.
It is a multisystem disorder, meaning it occasions organ failure.
The World Health Organisation (WHO) estimates that the incidences of preeclampsia are seven times higher in developing countries than in developed countries. According to the organization, developing countries record 2.8% of live births compared to 0.4% accounted for in developed countries. The 2.8% represents only four hundred live births out of about one thousand.
A gynecologist, Dr. Demiji Ojo, explained that any woman with preeclampsia should be constantly monitored and managed till the pregnancy is about 37 weeks, recommending emergency Caesarian Section delivery for affected women, to save both lives.
He says deaths in pre-eclampsia occur mainly due to late detection or in cases where the woman is not willing to undergo an emergency C-Section.
"It is quite unfortunate that Nigeria health care system is poor, and most women are not knowledgeable especially in the North where they cannot get easy access to good health services," said Dr. Ojo.
One of the causes of Preeclampsia, says Dr.  Ojo, results from a poorly functioning placenta. "This is an uncommon but serious complication of pregnancy. It occurs when the placenta does not develop properly, or is damaged," he explains.
Researchers have linked this to poor nutrition or high body fat.
In all 10% to 15% of maternal deaths globally are directly associated with pre-clampsia and if, left untreated, it progresses to eclampsia which is an advanced case of preeclampsia.
Preeclampsia is not specific to women who have had high blood pressure in the past. In the mother, pre-eclampsia may cause premature cardiovascular disease, such as chronic hypertension, ischemic heart disease, and stroke, later in life, while children born after pre-eclamptic pregnancies and who are relatively small at birth, have an increased risk of stroke, coronary heart disease, and metabolic syndrome in adult life.
To some women, the condition manifests in a mild way, especially for those who are able to detect it early. In severe cases, preeclampsia may cause an expectant woman to develop seizures or even slip into a coma.
Prevention of any disease requires the availability of methods for prediction of those at high risk for the disorder, Although numerous clinical and biochemical tests have been proposed for prediction or early detection of preeclampsia, most remain unrealistic for general use in most developing countries as most women in northern Nigeria do not have access to good health services.
Some of the biochemical tests used to detect pre-eclampsiain Nigeria are routine urine test and liver function tests. This helps to detect the amount of protein the urine and if the liver is malfunctioning.
Why is this so? Medical expert, Dr. Korede Akanni, says preeclampsia affects the central nervous system of such women as the most affected do not pay much attention to their health and changes in their body.
Approximately 800 women die from pregnancy or childbirth-related complications globally, according to the Preeclampsia Foundation. Ninety-nine percent occur in developing countries. Though according to the National Institute of Child Health and Human Development, the exact number of women who develop preeclampsia is not known, some estimates suggest that preeclampsia affects 2% to 8% of all pregnancies globally.
Medical practitioner and Reproductive Health expert, Dr. Abimbola Adekanbi, said more needs to be done to prevent the medical conditions of women from early stage of pregnancy, while calling on women to also know monitor blood pressure, salt and protein level.
"As an expert, I usually advice women with such condition or those who have tendency of having such to always go for urine test to monitor their protein level and also check their intake of salty food," she added.
Health experts are calling on the Nigerian government to look inward and allocate more funds to the health sector budget as this will go a long way in reducing maternal and child mortality, especially through early detection of conditions such as preeclampsia in Nigeria.
By Ruth Akinwunmi-King