Pope Francis at the Vatican on Wednesday, March 23, 2022, welcomed climate activists from Uganda who called on the leader of the Catholic Church to support their campaign to stop the construction of the East Africa Crude Oil Pipeline (EACOP).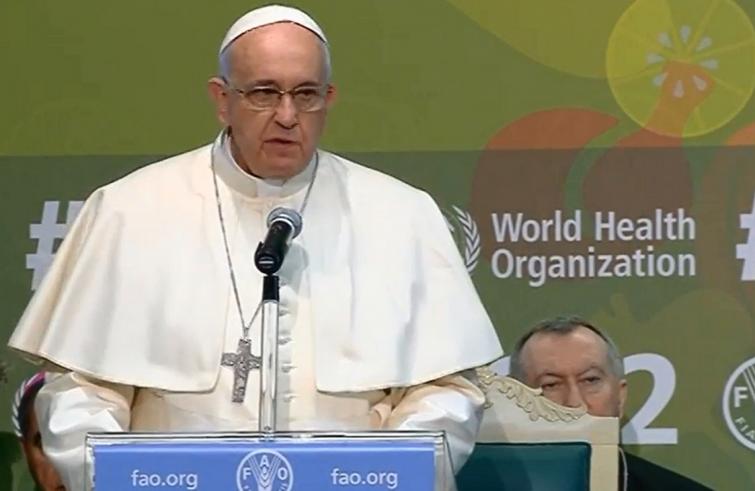 The East Africa Crude Oil Pipeline is a proposed 1,443-kilometre crude oil pipeline from Hoima in Uganda to the port of Tanga in Tanzania. If completed, would be the longest heated crude oil pipeline in the world.
According to the activists, the likely risk of oil spills pose a huge threat to the livelihoods and welfare of tens of millions of Ugandans and Tanzanians, and would generate over 34 million tons of carbon emissions every year, accelerating the climate crisis.
Vanessa Nakate, climate justice activist from Uganda and the first Fridays For Future striker in Uganda, says: "This meeting with Pope Francis is vital because activists, environmental defenders and scientists have been reaching out to world leaders about the dangers the people and the planet are facing, for years now. We've demanded that they take action but instead we continue to see continued investment in fossil fuels. It is time to escalate our efforts to end the age of fossil fuels and having the Pope acknowledge our campaign to StopEACOP lends even more moral authority to our demands."
Pope Francis has been consistent in support of a global shift away from fossil fuels, providing a moral framework for a clean energy transition outlined within his 2015 encyclical "Laudato Si", and more recently urging Catholics to stop investing in fossil fuels in 2020.
The campaigners' meeting with the Pope is one important stop on the StopEACOP tour across Europe during which they have: delivered an intervention at the UN in Geneva, met with French government officials, given speeches to tens of thousands of people in Paris, and met with representatives at BNP Paribas to demand an end to the banks financing of fossil fuels.
Hilda Flavia Nakabuye, Ugandan climate and environmental rights activist and founder of Uganda's Fridays for Future movement, says: "We want people in Europe and around the world to know about the East Africa Crude Oil Pipeline and the StopEACOP campaign. We want them to know that their banks and other big European companies are supporting oil giant Total, the corporation most responsible for pushing the pipeline ahead at any human cost, as long as they can turn a profit for themselves. We want to see this project stopped, as well as any new oil projects in Africa and around the world."
The StopEACOP campaign is gathering momentum, building pressure on the remaining supporters and financiers of the East Africa Crude Oil Pipeline. On March 17 the world's fourth largest (re)insurer SCOR announced that it "will not be providing insurance or facultative reinsurance in respect of this project", joining 15 major banks that have ruled out support for the pipeline.
Financial institutions that continue to support EACOP include Swiss Re, AXA, Zurich, Standard Bank, ICBC, JPMorgan Chase, MUFG, Standard Chartered, Citi, Deutsche Bank and SMBC.
Diana Nabiruma, from the Africa Institute for Energy Governance, a non-profit organisation based in Uganda, says: "The tour has helped us to mobilise youth and activists in Europe to create pressure on Total, banks, insurers, the legal system and others to stop the EACOP. In Uganda, we don't have much space to mobilize and engage in actions such as protests that are needed to create pressure. We hope that the youth and activists we have engaged can continue to create pressure through protests, financial advocacy, engaging insurers and more."
Nakate adds: "We want to see an end to the funding of any new fossil fuel projects like the East African Crude Oil Pipeline, and we want to see new investments in clean and sustainable energy. A just transition for all without leaving the vulnerable and less privileged communities behind. The pledge for climate finance to the vulnerable communities to be delivered and money for loss and damage should also be talked about and provided to the communities."