Members of the Ekuku-Agbor Owa/Alidinma community in Agbor, Delta State, have been told to monitor the state of their environment to speedily address any incidence of pollution and land degradation.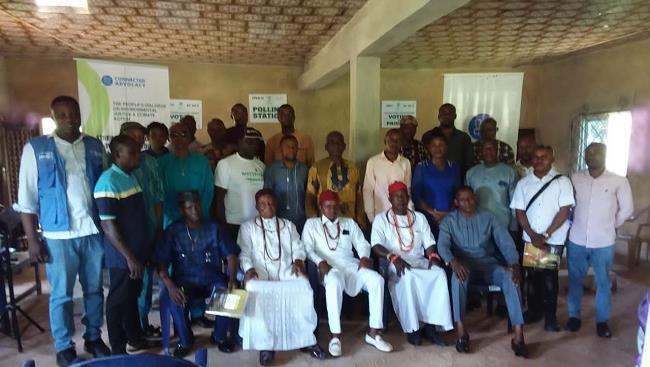 Mr. Cadmus Atake-Enade, an environmentalist, made the submission on Saturday, March 25, 2023, at the People's Dialogue for Environmental Justice and Climate Action held in the community.
Atake-Enade, who spoke on environmental monitoring tools for mitigating the danger of fossil-fuel (oil and gas) extraction in local communities, encouraged participants to monitor their environment through air, water, and soil pollution, and biodiversity issues.
He listed tools for monitoring the physical environment, such as pens, pencils, cameras, and whistles, and emphasised the need to document the findings or monitor the evidence.
Organised by Connected Advocacy, a non-governmental organisation based in Benin City, Edo State, the daylong event sought to train local and community people on strengthening local movements and building spaces to demand environmental justice.
According to Prince Israel Orekha, Director of Connected Advocacy, the programme featured training sessions on environmental monitoring, smart advocacy tools for environmental justice, and how to build a non-violent environmental justice movement. The training aimed to enable local communities to advocate for and demand freedom from pollution, environmental degradation, and exploitation, he added.
Participants listed the impact of oil exploration in the communities to include community crises, environmental degradation, diversion of monetary benefits, intimidation from the traditional rulers, non-compliance with environmental multilateral agreements, climate change issues, pollution, denial of social responsibility, excessive flooding, divestment plans by the IOC from the region, and an increase in the high cost of living due to poor agricultural produce.
The imperative of smart advocacy tools for environmental justice was stressed, which are evidence-based collective efforts or strategies targeting decision-makers and polluters. The training also focused on influencing the actions, programmes, and policies of the IOCs and governments toward environmentally friendly interventions, fulfilling the agreement for the protection of the earth, people, and the planet.
The meeting, which was attended by traditional rulers, oil host community leaders, as well as women youth leaders, concluded with the reconciliation between the Traditional Community Council and Host Community Network operating in the community, towards promoting a peaceful and organised strategy for advocacy, campaigning and participation to build a well-structured grassroots movement of impacted communities.
The promoters believe that the event will enhance local people's voices to mobilise for action to end fossil-fuel colonialism, expansion, and exploitation.