(BBC News) – Police in Liberia's capital, Monrovia, have fired live rounds and tear gas during protests after a quarantine was imposed to contain the spread of the deadly Ebola virus.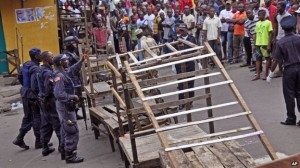 Residents of the capital's West Point slum area say the barbed wire blockade stops them buying food and working.
  Four people are said to have been injured in the clashes.
 Liberia has seen the most deaths – 576 – in the world's worst Ebola outbreak, which has hit West Africa this year.
 A total of 1,350 have died in four countries – Guinea, Nigeria and Sierra Leone, as well as Liberia.
 Hundreds of West Point residents protested on Wednesday after security forces erected blockades around the slum.
One 15-year-old boy was injured in West Point as he tried to cross the barbed-wire barricades erected by the security forces, who fired into the air to disperse the protesters.
"I don't have any food and we're scared," West Point resident Alpha Barry told Reuters news agency.
 The authorities said they had delivered some emergency food aid to the area on Wednesday.
Residents of other Monrovia districts said they were unhappy at not being able to buy food in West Point market.
"We go to West Point market to buy food for our children, and since this morning our children have not yet eaten," Hawa Massally told AP.
West Point is an informal settlement home to 50-100,000 people. The slum lacks almost everything required for livelihood and life has remained unchanged for the impoverished community for decades.
 There are no public toilets in the whole township. The zinc shacks in which people reside are almost glued together, making it a health hazard and vulnerable to fire outbreaks. In the absence of regular toilet facilities, West Pointers (as residents proudly call themselves) use makeshift wooden toilets erected over the River Mesurado. The beach on the Atlantic coast is also used as a toilet.
 Even though the township is situated close to mainland Monrovia and is densely populated, the only government school there is an elementary school; there is no high or secondary school and there is no assembly hall for residents to meet and discuss issues of common interest.
 Analysts have long argued that residents should be moved out of the mosquito-infested township but even though the land they reside on belongs to the government, residents are often reluctant to be relocated.
The BBC's Jonathan Paye-Layleh in Monrovia says troops are patrolling in West Point, the country's largest slum which is home to more than 50,000 and sprawls along the Atlantic coast. Ferries have been halted and coast-guard boats are monitoring the coastline.
 Our reporter says fear and tension has been growing in the slum for days and residents feel not enough has been done to protect them.
 But President Ellen Johnson Sirleaf said people were not heeding government warnings.
"We have been unable to control the spread due to continued denials, cultural varying practices, disregard for the advice of health workers and disrespect for the warnings by the government," she said on Tuesday evening.
Some people have dismissed the Ebola outbreak as a hoax, while others do not trust Western medicine, saying the disease is the result of witchcraft.
Ebola casualties
Up to 18 August
1,350
Total death toll
576 Liberia
396 Guinea
374 Sierra Leone
4 Nigeria
Source: WHO