The Lagos Recyclers Association (LAGRA) has called on individuals, governments and corporate bodies to take responsibility for reducing waste, plastic pollution, and safeguarding the health and sustainability of the marine ecosystems.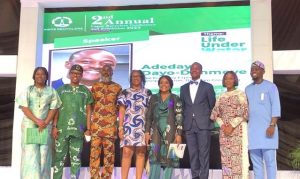 President of the association, Dr Femi Idowu-Adegoke, made the call on Wednesday, September 20, 2023, during the 2nd Annual Lagos Recyclers Conference and Exhibition with the theme: "Life Under Water".
Idowu-Adegoke said it was pertinent to achieve the Sustainable Development Goal 14 (SDG 14) to conserve and sustainably use the oceans, seas, and marine resources for sustainable development.
According to him, healthy oceans and seas are essential to our existence as they cover 70 per cent of our planet, make up 97 per cent of earth's water and we rely on them for food, energy, and water.
He noted that oceans and coastal areas are extremely vulnerable to environmental degradation, overfishing, climate change and pollution.
"Aquatic ecosystems in Nigeria are diverse including freshwater, brackish and coastal waters as well as marine ecosystems.
"They support a diversity of animal species which serve as food for man and support ecosystem functioning.
"These ecosystems provide significant services to man including transport, abstraction of water for domestic and industrial use, power generation, reservoir of hydrocarbon deposits, and food security, among others.
"However, the pollution of these ecosystems has been reported by many researchers over the years and remains the subject of studies to date.
"Today, the world is producing 20 times more plastics than 40 years ago. This means that each year more than 8 million tonnes of plastic end up in the oceans, wreaking havoc on marine wildlife, fisheries, tourism and marine ecosystems.
"Only less than 14 per cent of all plastic is recyclable.
"It is time someone came up with an innovation or technology to deal with the remaining 86 per cent which can create $80 billion to $120 billion in revenues, according to a recent report by the Ellen MacArthur Foundation," he said.
The LAGRA president urged everyone to protect and ensure the sustainable use of oceans by intentionally reducing marine pollution and ocean acidification, ending overfishing and conserving marine and coastal ecosystems.
"Increasing levels of debris in the world's oceans are also having a major environmental and economic impact.
"Oceans are now clogged with plastics, especially discarded fishing gear and single-use plastics.
"Stop using single-use plastic bags. Usage and wrong disposal of plastic is a major cause of marine pollution.
"It has been said that by 2050 we will have more plastics in the oceans than fish, according to the United Nations Environment Report.
"And 99 per cent of all seabirds will have ingested plastic by 2050, if nothing is done to reverse the trend," Idowu-Adegoke said.
Also, Mrs Belinda Odeneye, a retired Permanent Secretary, Lagos State Ministry of Environment and Water Resources, underscored the importance of the conference to discuss the state of the ocean and waterways.
Odeneye said that the oceans and waterways are facing unprecedented threats and challenges including climate change, overfishing, and all kinds of pollution.
"Plastic pollution has reached an alarming level and our oceans are choking. Rising sea levels, ocean acidification and extreme weather events are disrupting marine ecosystems and coastal communities.
"We must accelerate our efforts to reduce greenhouse gas emissions, transit to clean energy sources and protect the resilience of our coastal areas," she said.
She added that overfishing remained a critical concern with many fish stocks on the brink of collapse and extinction.
Addressing this, Odeneye said, required sustainable fishery management and protection of critical marine habitat to ensure the long-term health of our oceans and the livelihood of coastal communities.
"On our part, we should commit to taking the lead and be part of the solutions to these challenges. We must reduce plastic consumption and embrace sustainable alternatives.
"We must support initiatives and policies that promote clean energy and reduce carbon emissions, advocate sustainable fishing practices, responsible seafood consumption and restore critical marine habitat.
"Government agencies, businesses, and civil societies must collaborate to develop and implement policies, prioritise scientific research, innovation and technologies that safeguard our oceans and waterways," she said.
Mrs Toyin Oguntola, Assistant Director, Waste Management Division, Sanitation Services, Lagos Ministry of Environment, said the ministry was working towards ensuring an effective waste management system by intensifying awareness campaigns on the benefits of recycling.
Mrs Jirinsola Ladipo-Okubanjo, Head, Recycling, Lagos State Waste Management Authority (LAWMA), said that protecting the environment was a collective responsibility by adopting proper waste management practices.
She said individuals must learn to sort their wastes from source to ensure proper waste disposal and promote recycling for a sustainable environment.
Nkem Agboti, Executive Committee Member, Food and Beverage Recycling Alliance (FBRA), urged producers who made consumer items to engage in responsible practices and help influence consumers to adopt such practices.
"Producers need to look more at recycling and promote responsible consumption practices because they have a lot of knowledge and value that they can add to policy discussions.
"Plastic is not completely the enemy but it needs to be used responsibly. If we are to use plastics, it has to be used in a circular economy manner where no waste is wasted," Agboti said.
The association unveiled LAGRA Multipurpose Cooperative, aimed at driving collaboration with members to make impact in recycling for a sustainable environment.
By Adebola Adegoke and Franklin Ohaegbu