The Foundation for a Better Environment (FABE) International has called for a positive behavioural change among Nigerians toward plastic pollution.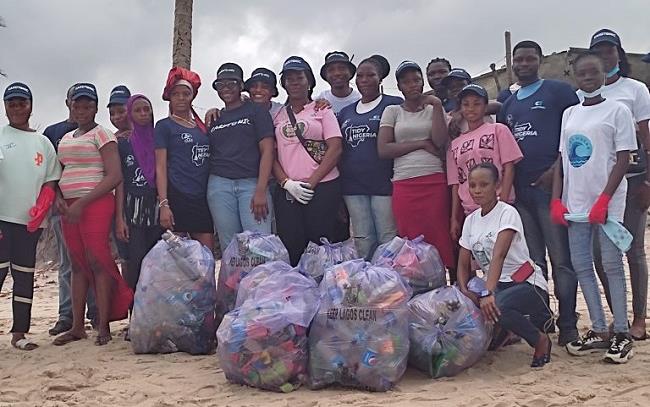 Mrs Temitope Okunnu, the Founder of FABE, made the call during the clean-up of Okun-Ajah Beach on Thursday,July 28, 2022, in Lagos.
FABE International partnered Cardtonic to clean-up Okun-Ajah Beach on Thursday.
The training of women and children in recycling and upcycling activities in the community was part of the clean-up themed: "Plastic Free July"
Okunnu said that the residents should not only be concerned with the recycling rewards but sustainability as a lifestyle.
"It is 'Plastic Free July' and we are ending the month of July with the beach clean-up at Okun-Ajah community in collaboration with Cardtonic.
"Recycling is an activity that has gained popularity in Lagos state and that is why the residents feel they should get paid before any clean-up.
"Yes, there are monetary rewards for recycling but our aim as an organisation is to get the residents to have the necessary behavioural change for a sustainable environment.
"We want people to recycle not just because of the reward they may get from it, but because it has become a lifestyle to preserve the environment," Okunnu said.
The environmentalist, however, commended women in the community for their drive in eradicating plastic pollution through upscale recycling activities.
According to her, women in the Okun-Ajah community have taken it upon themselves to rid the beach of plastics.
"They call us every other week that they are ready for a pick-up to the recycling hubs.
"They engage children and friends in the plastic collection that is why you see we have fewer plastics to pick at the beach this year compared to last year's clean-up.
"We are happy with the behavioural change we witnessed as regards plastic pollution.
"The resident participants at clean-up will be rewarded with food items, home appliances and gifts aside the points they get from recycling pet bottles," she said.
Okunnu said that women and children in the community would also be taught basic skills in recycling and upcycling.
On her part, Ms Aisha Sulayman, Human Resources Assistant at Cardtonic, said partnering FABE for the clean-up was part of the company's Corporate Social Responsibility (CSR) efforts.
"Cardtonic is a digital exchange platform that aims to bridge the gap between individuals who need liquid cash and businesses who need discounted gift cards as a payment alternative.
"At the beginning of the year 2022, we started this Giveback Initiative, where from every transaction on our on our platform, we take out N5 from every transaction as our CSR efforts.
"This month, we decided that to do a different form of Giveaway hence the partnership with FABE.
"With the flooding that happened in Lagos recently, it got us thinking that what can we do to sensitise people to clean up and recycle?
"It is the accumulation of this waste that people throw around that causes this flooding and it is not good for the environment.
"We believe the residents of Okun-Ajah will benefit a lot from this exercise," Sulayman said.
On her part, Mrs Oyeronke Adegbile, a marine scientist and conservationist, commended the initiative noting that beach clean-up was a way of preserving marine life from extinction.
"To protect marine animals from extinction, we need to engage more on the beaches, you know, for example, what we are doing today is keeping the beach clean of plastics.
"Plastics are major pollutants and does not biodegrade easily. These PET bottles can stay up to 400 years before biodegrading.
"So, if we keep our beach clear of plastics for example, we are helping the sea turtles and other marine animals, most of them when they see plastics at sea they think is their favourite food," Adegbile said.
By Mercy Omoike