When the biography of Chief S. L. Edu was published, it was titled "Journey from Epe". Pa Edu died on Tuesday January 8, 2002. The following day his body was conveyed to his birthplace in Epe town, about 60 kilometres from Lagos, and buried in his ancestral home. The journey that started in Epe on January 7, 1911, ended in the same town ninety-one years later.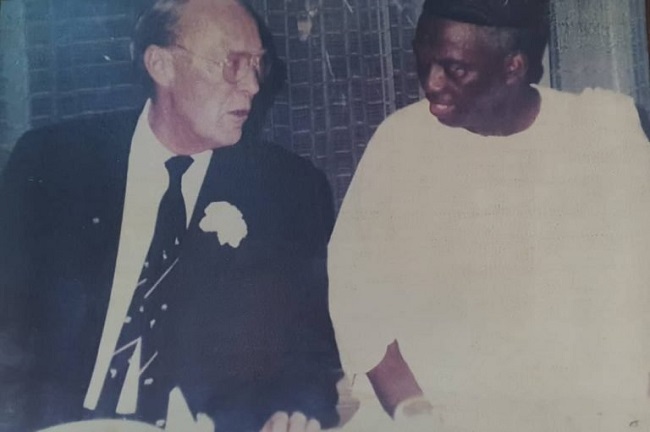 He was a man with a deep attachment to his community and it was his wish that his body be interred amongst his people. Papa Edu's trail-blazing journey through life was eventful and exciting.
A man of many parts, Chief Edu has lived a full and varied life, spanning both the public and private sectors. He was to crown it all with involvement in the non-governmental sector, specifically, the environmental non-governmental organisation field. I will leave it to others more qualified than me to assess the significance of his contributions in commerce, business, industry, education, health, and religious spheres. Suffice it to say that having achieved immense recognition in the private sector, he used his legitimately acquired resources to work for his community that in turn led to his being legitimately placed into public office.
It is a rare occurrence to find someone with experience of community work combined with experience of public and private sectors as well as NGOs. Chief Edu was easily at home in any of these sectors. This combination prepared him to play the unique role he did in the environmental movement in Nigeria, nay the world, within the last 40 years. It is this role that I wish to briefly examine here.
Chief S. L. Edu started, like most conservationists, with an innate passion and love for nature. This 'fire in his belly' was to find concrete expression and be turned into action when his business activities brought him into contact with the leaders of the budding global environmental movement in the early 1960s.
The World Wide Fund for Nature (WWF), which is the largest independent environmental organisation in the world, was established in 1961 and Chief Edu met its then President, Prince Bernhard of the Netherlands, in 1962 who introduced the organisation to him. They quickly developed a friendship and Chief Edu subsequently joined WWF in its most exclusive membership category – Club 1001: A Nature Trust. Therefore, at the very beginning of the global conservation movement, when few people thought about the crucial need for conservation, our Chief was right up there in front with the pioneers.
Using his own personal resources, he attended WWF annual conferences in various parts of the world. He also made generous donations to various WWF appeal funds. On his personal merit, he was twice elected as a member of the International Board of WWF. He was also closely associated with BirdLife International, the global network of NGOs involved with the conservation of birds.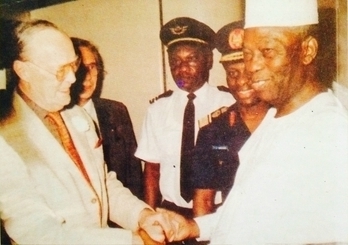 He was a registered member of its elite membership class- the Rare Bird Club and at the time of his death attained the eminent position of BirdLife International's Honorary Vice President for Africa. Chief S. L. Edu was not satisfied with these strings of enviable personal achievement in the international arena. He set his mind to act locally by turning his focus to his country Nigeria. Here, his strategy was to conform to the adage that says, "if you want to be remembered by your generation, develop yourself; but if you want to be remembered by future generations create an organisation".
The exposure to the happenings around the world imbued him with a vision and a singular mission to mobilise Nigerians to take steps towards ensuring that our environment does not become irreversibly degraded. He sent a memorandum to the then Head of State, General Yakubu Gowon, asking for government endorsement to establish a national conservation NGO in the mould of WWF. Gowon's advisers discovered that the only presence of WWF in Africa at that time was in apartheid-era South Africa.
They wrongly concluded that this was a ploy to establish a linkage with the apartheid regime contrary to government policy and advised that the request should be rejected. The establishment of the Nigerian Conservation Foundation (NCF) was delayed for ten years as a consequence. Papa chuckled as he related this story to me in 1999. He could afford to laugh about it then because not only had he won the battle since 1980 but, with time, he had also won over most of the people who were initially opposed to his proposal.
The lesson in the above story is that Chief Edu's idea of an NGO is that of an organisation that complements the activities of government and therefore he was not willing to go ahead and establish a body that does not have recognition from the Authorities. This lesson is particularly relevant these days when so much energy is being dissipated due to friction, duplication, and lack of harmonisation of efforts between governments and NGOs. A second lesson that comes out is the persevering spirit of Chief Edu.
Those who know him say that once he gets his teeth into anything, he never lets go until he eventually succeeds. Most people will throw up their hands in defeat once the mighty Federal Government rejects their proposal. Even those who still have the heart to soldier on will not do so consistently for well over ten years! However, we are not all Chief Shafi Lawal Edu. He did soldier on, and eventually succeeded.
He narrated to me the story of the combination of wit and luck that culminated in his eventual success to have NCF registered. It went something like this. The times had moved on and various regimes had come and gone since the Federal Government rejected his idea. It was 1979/80 and the new civilian President Shehu Shagari was embarking on an official visit to the United Kingdom. Prince Philip, the Duke of Edinburgh, had then replaced Prince Bernhard as the President of WWF. Chief Edu informed him about the problems he was facing in trying to get endorsement from the Nigerian government to establish NCF. Prince Philip casually mentioned this to President Shagari during his visit to Buckingham Palace.
On return to Nigeria, President Shagari investigated the issue and promptly granted his approval. Thus, against all odds, together with a select group of associates from across the country, Chief S. L. Edu founded the Nigerian Conservation Foundation (NCF) in 1980, with registration in 1982 as a Charitable Trust. Chief Edu was not only the Founder, but also the Life-President of NCF, whose noble vision is that of a Nigeria where people prosper while living in harmony with nature.
Having succeeded in registering the organisation, Papa Edu took the challenge of building it into an effective body that will be able to execute its mission. Apart from spending his personal fortune towards the cause of NCF; his personality and goodwill got the government, many corporate organisations, and eminent Nigerians to make generous contributions. NCF, which is 40 years old this year, has since grown undoubtedly into being Nigeria's leading environmental NGO, is an Associate of the World Wide Fund for Nature (WWF) and the Nigerian Partner of Birdlife International.
Through conservation projects, policy advocacy and environmental awareness and education programmes, Chief Edu has steered NCF towards a myriad of successes. NCF's credibility has also earned her the United Nations' Global 500 Award and mention in the Nigerian National Roll of Honour for Environmental Achievement, amongst many others.
NCF is not only Chief Edu's creation, but the Foundation also owes its enviable position to the vision, drive, hardwork and perseverance of this humble, disciplined, and intelligent man with a winning smile and legendary sense of humour. He was indeed a paragon of many virtues. His family and the world conservation community have lost a great source of inspiration.
As we commemorate the 20th anniversary of his death this year, we are consoled by the fact that he has built an organisation that will serve as a truly lasting memorial. Rest in peace, Papa Edu, your dreams shall never die.
By Dr. Muhtari Aminu-Kano, Director General, Nigerian Conservation Foundation (NCF)