Addressing world and business leaders at the virtual World Economic Forum holding from January 17 to 21, 2022, United Nations Secretary-General, António Guterres, has highlighted climate action in developing countries as one of the top three global issues requiring urgent attention, citing the targeted phase out of coal as climate priority number one.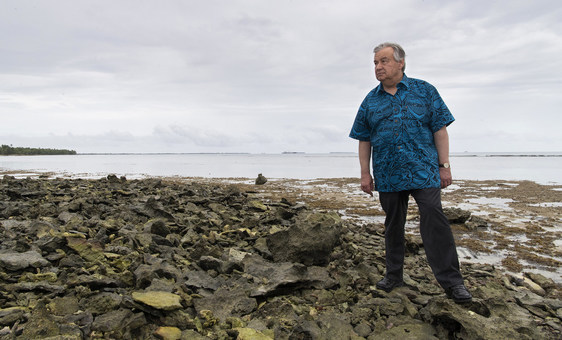 Even if all developed countries keep their promises to reduce emissions by 2030, global emissions will still be too high to reach the Paris Agreement goal of limiting global temperature rise to 1.5 degrees, the UN Chief said.
According to UN-backed research, the world needs a 45% reduction in global emissions this decade, but they are presently on course to increase by 14% by 2030.
To help key emerging economies accelerate the transition, the UN Secretary-General called for the creation of coalitions of countries, public and private financial institutions, investment funds, and companies with the technological know-how to provide targeted financial and technical support for every country that needs assistance.
Devastating impacts with just 1.2 degrees Celsius of warming
Mr. Guterres stated that 1.2 degrees C of warming has "already brought devastating consequences and soaring price tags measured in dollars and despair."
Over the last two decades, the economic toll from climate-related disasters skyrocketed by 82%. Just last year, extreme weather caused around $120 billion in insured losses.
In 2020 alone, climate shocks forced 30 million people to flee their homes, three times more than those displaced by war and violence. And one billion children are at an extremely high risk of suffering the impacts of climate change.
"Turning this ship around will take immense willpower and ingenuity from governments and businesses alike, in every major-emitting nation," Mr. Guterres said.
Phasing out coal the main priority
The Secretary-General stressed that the main priority was to build no new coal plants. On a positive note, he cited the recent announcements by the Governments of Indonesia and Vietnam of their intention to get out of coal and transition to renewable energy, while South Africa now has in place a just energy transition partnership to move beyond coal.
In a message on January 15 to the Assembly of the International Renewable Energy Agency (IRENA), the UN Chief called for the phasing out of coal in OECD nations by 2030 and by 2040 for the rest of the world.
He said that organisations such as IRENA were well positioned to support countries – especially the most vulnerable – in their efforts to transition to clean energy by creating energy transition pathways to advance both the 2030 Sustainable Development Agenda and the Paris Agreement.
However, he stressed the need for the international community to "go even further and much faster to close the energy access gap and keep the 1.5 degrees goal of the Paris Agreement alive."
Also last week, the UN chief took part in a meeting of the Glasgow Financial Alliance for Net Zero (GFANZ), a global coalition of leading financial institutions committed to accelerating the decarbonisation of the economy, and which has mobilised more than $130 trillion around the net-zero goal.
Mr. Guterres said the alliance "has set the gold standard", and "the entire the financial system should follow their lead."