UN Climate Change High-Level Champion for the COP28 Presidency, Razan Al Mubarak, has underlined the significant work non-party stakeholders are doing to accelerate progress towards a net zero and resilient world by 2050.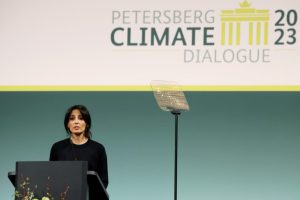 During her opening address to government Ministers and representatives at the 14th Petersberg Climate Dialogue held in Berlin, Ms. Al Mubarak outlined the ambitious vision shared by Dr. Mahmoud Mohieldin, fellow High-Level Champion for COP27 for non-party stakeholder action and engagement ahead of COP28.
Ms. Al Mubarak said: "To really mobilise change this year, three of the most powerful things we can do is to embrace nature positive action, mobilise finance at scale, and be truly inclusive – ensuring that women, youth and Indigenous peoples are leading our discussions. This decade, we must reverse biodiversity loss, halve emissions, enhance adaptation and advance equity simultaneously. There is no Paris Agreement without protecting nature."
With six months until the Conference of the Parties (COP 28) climate summit in Dubai, Ms. Al Mubarak underlined how leadership and solutions from non-party stakeholders are already driving significant climate action in all sectors, and amongst all groups of actors, and delivering tangible and measurable progress on decarbonisation as well as adaptation and financial flows.
For example, the approximately 11,000 members in Race to Zero are committed to collectively halve emissions by 2030. Likewise commitments to date made through the Race to Resilience aim to make 3 billion people more resilient by the end of the decade.
Similarly, the 2030 Breakthroughs, the Breakthrough Agenda and the Sharm El Sheikh Adaptation Agenda – all welcomed by parties in the COP27 Decision – together with the Marrakesh Partnership Climate Action Pathways – provide a roadmap of milestones and actions needed this decade to get on track  to deliver our goals.
The Sharm El Sheikh Adaptation Agenda seeks to accelerate adaptation action across five systems : food and agriculture, water, oceans, human settlements and infrastructure. It also aims to bring forward many proven solutions, for example mangrove restoration, urban greening, resilient agriculture and early warning systems.
Similarly, the 2030 Breakthroughs are driving convergence and action in nearly 30 different sectors from human settlements to transport; from water to land use.
The Global Stocktake was a key political theme of the Dialogue which Ms. Al Mubarak underlined as a chance for everyone to maximise ambition. She said: "We have a unique opportunity with the Global Stocktake to put action and solutions at the heart of our discussions and to identify challenges and opportunities – and to explore how we can measure ourselves annually against clear sectoral goals, which could be a clearcut and impactful move in the right direction."
The Petersberg Climate Dialogue is convened by the German government to lay the groundwork ahead of the UN's Climate Change Conference. This year COP28 President designate, Dr. Sultan Al Jaber, and the Youth Climate Champion, Ms. Shamma Al Mazrui, also launched their vision for the upcoming conference in December.
Dr. Mahmoud Mohieldin, UN Climate Change High-Level Champion from the COP27 Presidency, says: "With only seven years to 2030 and to halve global emissions, the Global Stocktake is an opportunity to course correct climate action and focus efforts on climate solutions that ensures just transition in the context of the 2030 Sustainable Development Agenda, as well as enhancing non-State actor and country collaboration for a global net zero, resilient, and just world. COP28 will look at the solutions and implementation of climate action in the real economy building on the significant and ambitious outcomes from Sharm El Sheik last year. Finance is the key that can unlock climate action. Without unlocking climate finance, climate action cannot be unlocked.
"We need to scale up public financing, mobilise private finance, bring down the cost of capital and improve access. Despite the recognised challenges associated with climate action, it represents an immense economic opportunity for investment in sustainable growth. Non-State actors, such as cities, states, regions, businesses and investors, are critical to this agenda and can provide concrete, scalable and actionable examples of what is working and where collaboration is needed."
Dr. Sultan Al Jaber, COP28 President-Designate, says: "We want COP28 to be remembered for uniting everyone in action. Working with Razan Al Mubarak, COP28 will be a space for innovative solutions for nature including the protection of natural carbon sinks, ensuring biodiversity, and helping preserve natural ecosystems. We will also enable youth participation, particularly from small island states and the least developed countries. This needs to be accompanied by ambitious, transparent, and accountable commitments from countries and non-state actors that will shape policies in parliaments and budgets in boardrooms.
"Let's turn passion into pragmatic solutions to deliver an ambitious agenda and a practical action plan for 2030. In a pragmatic, just and well managed energy transition, we must be laser focused on phasing out fossil fuel emissions, while phasing up viable, affordable zero carbon alternatives. We know that the energies used today will continue to be part of the global energy mix for the foreseeable future. As such, we will work with the world to decarbonize the current energy system while we build a new one, capable of transitioning even the most heavy-emitting industries."
Shamma Al Mazrui, Youth Climate Champion from the COP28 Presidency, says: "Youth have always been at the forefront of change, driving groundbreaking social, economic, and environmental progress. The same holds true for the urgent climate action needed to address the pressing challenges we face today. With the clock ticking on the climate crisis, we cannot afford to ignore the voices and perspectives of young people. I am very proud that this is the first year with a strong youth presence at the all-important Petersberg Dialogue where the high-level brainstorming for COP begins.
"Three of the UAE's Youth Climate Delegates are attending alongside representatives from YOUNGO, the UNFCCC Youth Constituency, marking a milestone on the road to creating more meaningful opportunities for young people to participate in negotiations. As was emphasised by His Excellency Dr Sultan, this is a process I hope to see not just at COP28 but institutionalised for all future COPs."