The Shell-installed kinetic football pitch at the Federal College of Education (Technical) Akoka, Lagos was in the spotlight again on Thursday June 30, 2016 as football legend Pelé teamed up with Shell to bring together Africa and Europe in a first of its kind player-powered energy game, Pelé's Energy Challenge. The event helped launch "Make the Future London", a festival of ideas and innovation dedicated to supporting bright energy ideas and providing a platform for innovation, collaboration and conversation about the global energy issues facing the world of today.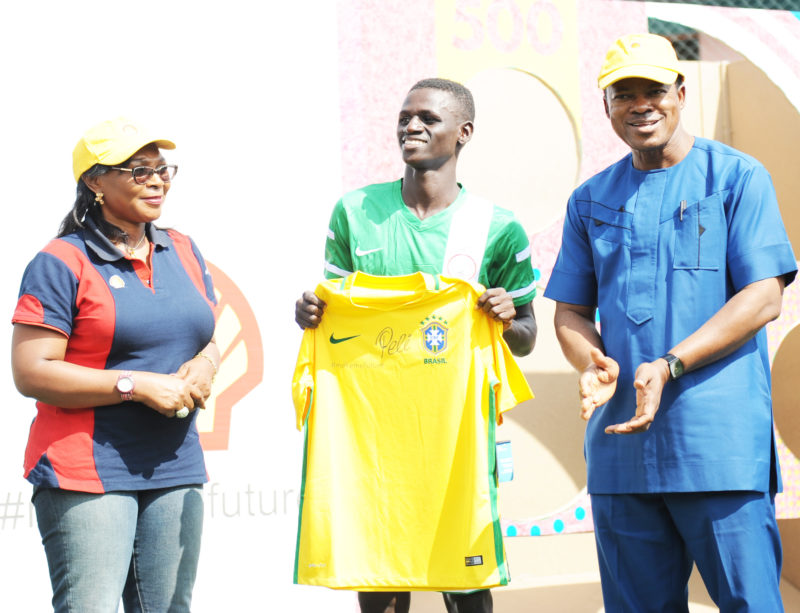 Pelé's Energy Challenge showcased the power of innovative kinetic tile technology that converts footsteps into renewable electricity. The challenge featured two teams that comprised children from London and Lagos linked up via satellite. The more energy a player generated on the tiles the more time they had to compete, directly linking the technology to the task. Shell previously installed kinetic football pitches in Rio and Lagos, providing a safe environment for the communities to play, with floodlights powered by the players and solar panels.
The tile technology used to refurbish the pitches and power Pelé's Energy Challenge is the invention of young British entrepreneur and founder of Pavegen, Laurence Kemball-Cook, who has been supported through Shell LiveWIRE programme.
In 2014, Shell and Pelé joined forces to launch the world's first player powered community football pitch in Rio de Janeiro. The Lagos pitch was then opened in 2015 with the support of solar entrepreneur and global music superstar Akon; showing the local communities what can be achieved when bright energy ideas are put into action. The activity at Make the Future London celebrates these launches and reinforces the importance of turning entrepreneurial ideas into reality.
Pelé said on the launch, "I've seen first-hand how Shell has brought bright energy ideas to life, having helped launch the first kinetic pitch in Rio. And I've seen how this amazing technology has reinvigorated the community, allowing Brazilian children to follow their passion in sport and learn about future energy solutions in the process. I'm so excited to be here again and see the legacy of these pitches – how they continue to be used every day – while testing out this new energy challenge at Make the Future London."
Osagie Okunbor, Managing Director of Shell Petroleum Development Company of Nigeria Ltd (SDPDC) and Country Chair, Shell Companies in Nigeria, said: "The tile device at Akoka is not just another football pitch. It is a powerful statement on the kind of energy ideas that Shell and SPDC have been promoting in Nigeria. We are confident that Nigerian youths will take advantage of our LiveWIRE programme and launch bright energy ideas that will help to better the lives of millions of Nigerians."
The LiveWIRE programme was launched in Nigeria in 2003, and has since enabled young entrepreneurs to convert ideas into real businesses that create products or services as well as employment to the community. Today, LiveWIRE supports Nigeria's National Youth Policy by encouraging and training young people to start their own businesses by providing start-up funds. To date, the programme has trained 6,200 youths in enterprise development and management, and provided business start-up grants to 3,100.