The Pan African Vision for the Environment (PAVE) through its President, Anthony Akpan, is collaborating with Dr. Philip Thompson, in his capacity as the chair of the International Service Committee of the Emerald City Rotary from Seattle, Washington, U.S.A,  and the Rotary Club of Uyo Metropolis, Uyo, Akwa Ibom State in the construction of a school toilet with handwashing stations for boys, girls and staff at the Comprehensive Secondary School, Ede Obom, at Nsit Ibom L.G.A., Akwa Ibom State, Nigeria.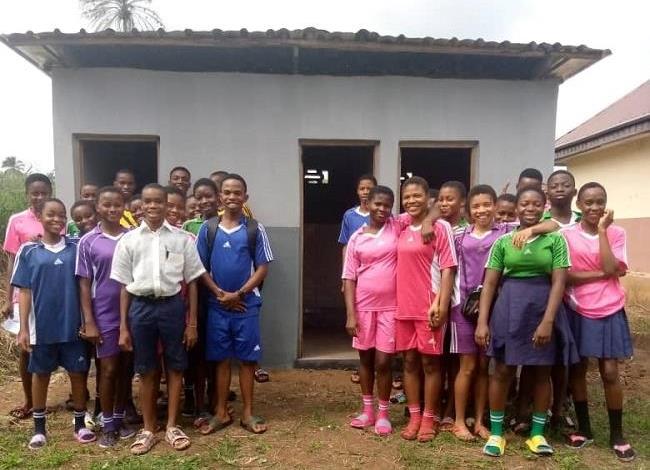 "When we discuss solutions to ensure more children can go to school, not many people think about toilets. But the availability of toilets can encourage children, especially girls, to go to school and remain in the school system," said Akpan.
According to him, lack of proper toilets in schools threatens the education of millions of children in the developing world, who are at risk of getting sick due to poor hygiene, and subsequently miss school. The risks are even higher for girls, he added.
The PAVE president noted: "In developing countries, the lack of separate toilets for girls and boys is among the top barriers to girls' education. When a girl reaches puberty, access to a separate toilet can be the decisive factor of whether she continues with her education.
"When girls are menstruating, they need access to a water point and to have a place where they can dispose of their pads. Without this, girls may miss up to five days of school every month or worse, drop out of school completely."
A UNESCO report estimates that one in 10 girls in sub-Saharan Africa misses school during their menstrual cycle, which equals as much as 20% of a school year.
Akpan believes that girls may also be harassed or attacked when they are looking for a private place if their school lacks toilets.
"Faced with these concerns, girls might choose to limit their consumption of drinks and foods, which can lead to malnourishment and eventually prompt them to drop out," he stressed, adding:
"A lack of access to proper sanitation facilities poses a huge barrier to education as children frequently miss school due to hygiene-related diseases. Toilets and proper washing stations can help stop the spread of many diseases and parasites such as diarrhea."