Part of the world's longest cross-desert highway is set to open at the end of June 2017, with the rest of the road scheduled to open in 2019.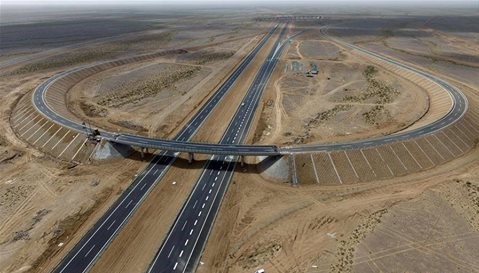 The road links the Chinese capital Beijing to the Xinjiang Uygur Autonomous Region. Stretching 2,540 kilometres, the highway passes through six regions and provinces.
The landmark highway, which cost 37 billion yuan ($5.55 billion) to build, is part of the Jingxin Expressway.
One stretch of this new highway is a 930-kilometre section from Linhe and Baigeda in the Inner Mongolia Autonomous Region. It passes through the Gobi and Badain Jaran deserts, making it the longest cross-desert highway in the world.
This length is almost the same distance between Beijing and China's former capital, Nanjing, in eastern Jiangsu Province.
The highway project is part of China's ambitious Belt and Road Initiative, which aims to improve connectivity and increase trade among countries along the ancient Silk Road from Asia to Europe and Africa.