The United Arab Emirates (UAE) has abundant opportunities to diversify its economy away from oil as a result of the impulse of the Paris Agreement, Christiana Figueres, head of the UN climate convention, on Monday told a distinguished audience at the Court of the Crown Prince of Abu Dhabi.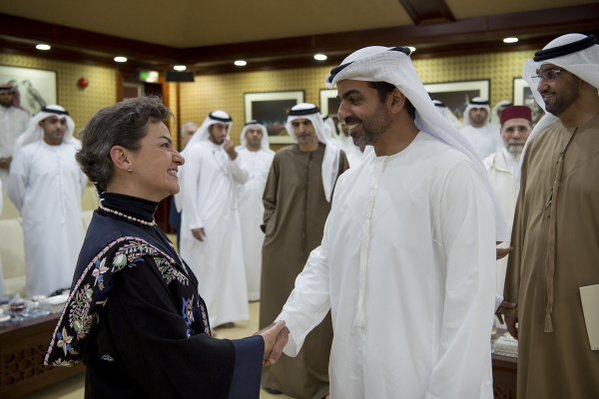 Addressing the Court, Ms. Figueres said opportunities ranged from displacing coal on world markets via low cost gas supplies to ramping up the global deployment of renewable energy.
She also called on the region to invest in research and development in cutting edge technologies in generation, distribution and storage of renewables.
Ms Figueres invited the UAE to find ways to de-risk investments in technologies like wind and solar, especially in developing countries.
Figueres, invited to deliver the Court's first prestigious Majlis Lecture of 2016 which coincided with Abu Dhabi Sustainability Week, praised the UAE's founder for his vision.
The Executive Secretary of the UN Framework Convention on Climate Change (UNFCCC) said the new global climate agreement matched the vision of a sustainable world, outlined half a century ago, by the late Sheikh Zayed bin Sultan Al Nahyan.
Ms Figueres informed His Highness Sheikh Hamed bin Zayed Al Nahyan, chair of the Court or 'Diwan'; other members of the UAE Royal Family and government; members of the diplomatic service and oversees guests, that Paris had been a turning point in international cooperation on climate change.
She underlined the significant economic shifts in energy, highlighting how wind power was now cheaper than conventional coal globally; renewable energy installations were now higher than fossil fuels and how investments in clean energy were today outstripping coal and oil.
Ms Figueres's lecture, which also noted the significant low carbon opportunity in the region for other Gulf Cooperation Council (GCC) nations including from investment in more efficient, cleaner cooling systems, came on the day that the government of the UAE announced it would be taking the outcome of the Paris Agreement to plan for an economy 'beyond oil'.
Later in the day Ms Figueres spoke at the headquarters of the International Renewable Energy Agency (IRENA) during a Financial Times organised 'Question Time' debate: Scaling Up Renewables: Taking Climate Action to the Next Level.
She described the dramatic fall in the price of oil as a "golden platter" for investing in less risky and more predictable clean energies like solar, wind and geothermal.
Ms Figueres was joined by the Prime Minister of the Cook Islands Henry Puna; European Energy Commissioner Miguel Arias Cañete; and Kyung-Ah Park, Head of Environmental Markets at Goldman Sachs.