Nations and philanthropic organisations at the seventh Our Ocean conference in Palau have pledged to redouble their efforts to conserve the world's oceans.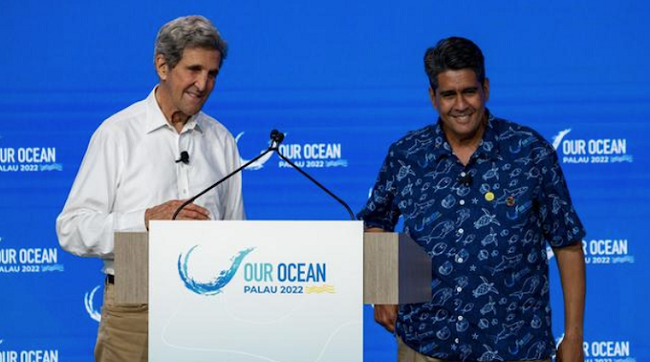 The conference, which held from April 13 to 14, 2022, spanned two days of speeches, panels and sessions about sustainable fisheries, Indigenous community-led conservation and other topics related to oceans.
Leaders and representatives of nonprofit groups made promises to better address climate change and related issues as advocates pressed for more urgent action.
On Wednesday, April 13 in Palau, the European Union promised to back 44 ocean-related commitments worth more than $1 billion. The U.S. government announced over 100 commitments worth $2.7 billion, including 16 new sustainable fisheries initiatives worth at least $120 million and a new tool for assessing marine-protected areas.
"We are past negotiating for commitments. It's time we act on those commitments that we have made," Palau President Surangel S. Whipps, Jr. said in his opening remarks.
The conference came five months after nations gathered in the United Kingdom for the United Nations climate change conference known as COP26. The conference resulted in a promise to reduce the use of coal, but critics have lamented how the promises made aren't enough to prevent the world's temperature from continuing to rise by at least 1.5 degrees Celsius.
The Palau conference was seen as another opportunity for world leaders to address issues like shipping industry emissions, marine pollution and rising seas.
U.S. climate envoy, John Kerry, said Russia's war on Ukraine underscores the importance of moving toward reliance on clean energy. Russian President Vladimir Putin "cannot control the power of the wind and the sun," Kerry said.
Europe is heavily dependent on Russia to provide gas, which has complicated Western efforts to impose sanctions on Moscow.
Kerry noted that the conference in Palau was the first since 2014, and the first to be held in a small island nation. In previous years, the conference resulted in more than 1,400 individual commitments worth more than $90 billion and protections for over 5 million square miles of ocean.
"We gather here in the Pacific, the frontlines of the crisis both in our oceans and on our planet," Kerry said. "We need the full-throated voice of the island states particularly because you speak with a particular moral imperative, with a particular capacity to be persuasive."
Kerry said 20 countries are responsible for 80% of emissions on the planet and acknowledged the U.S. is the second-largest carbon emitter. He added the U.S. is working with the shipping industry to eliminate carbon emissions in that industry by 2050.
New Zealand announced a $3 million commitment to support the University of the South Pacific and University of Canterbury to produce a Pacific Ocean climate crisis assessment. Ireland announced a new $2.2 million euro research programme on blue carbon storage and sequestration. Indonesia promised to expand its marine-protected areas.
Nongovernmental organisations also made pledges. The Green Climate Fund announced a funding agreement with Pegasus Capital Advisors worth $125 million of investments to support sustainable oceans. The fund also announced four new coral reef initiatives that would unlock another $120 million, including initiatives in Palau, the Federated States of Micronesia and the Marshall Islands.
Many speakers acknowledged the role that Indigenous communities play in conservation and sustainability and spoke of the particular challenges faced by island nations facing rising sea levels and threats to their traditional fishing practices.
On Thursday in Palau, Keone Nakoa, representing the U.S. Department of the Interior, said the Biden administration values Indigenous knowledge in addressing climate change, and described Hawaii's Papahanaumokuakea Marine National Monument as a premiere example of Indigenous co-stewardship of oceans.
The vast expanse is co-managed by the Office of Hawaiian Affairs, not just state and federal agencies, and Nakoa noted the area is a space where Native Hawaiians may sail using traditional navigational methods learned from Micronesian navigator Mau Piailug.
Next year's conference is scheduled to be held in Panama.
By Anita Hofshneider, Honolulu Civil Beat