At least 70,000 bamboo tree seedlings have been distributed to communities in the region around the Eastern Mt Kenya and will be planted in strategic areas to help build resilience against the effects of climate change.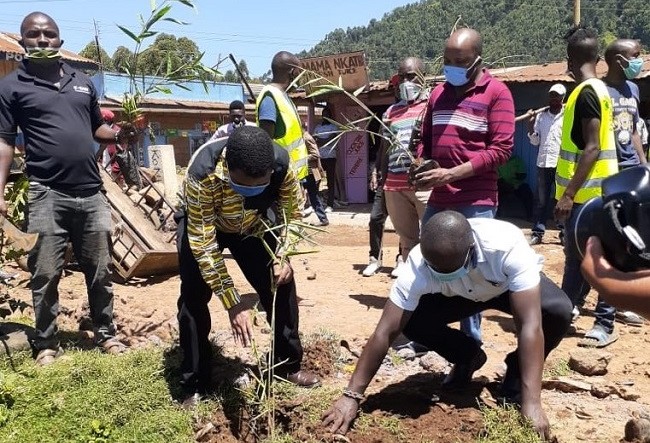 Speaking on Wednesday, May 13, 2020 when the exercise was launched virtually with participants from around the world participating, Mithika Mwenda, the Pan-African Climate Justice Alliance (PACJA) Executive Director, said the fact that the Covid-19 pandemic had turned everything upside down was not an excuse to discontinue the fight against the climate emergency.
He spoke at a primary school in Meru County, where the seedlings donated by several organiations, PACJA inclusive, had been kept.
"We are grateful that the Bidco Oil Company, the Mugwe Community, Caritas Kenya, AWECA as well as the county governments are actively involved in this initiative to conserve the environment while at the same time improving the economic status of the locals, because bamboo tree serves both purposes so well," said Dr Mwenda.
Governors Muthomi Njuki (Tharaka Nithi) and Kiraitu Murung (Meru), speaking through their representatives, emphasised the role of the county governments in environmental conservation, catchment rehabilitation, especially promotion of the right varieties of trees in alignment with the Water Forum Resolutions 2019.
Gacheri Muthuri, who is the Chair of the Mugwe Community Development Organisation, urged communities to play their role in ensuring their surroundings were safe dwelling places by planting as many trees as they could.
The teams chose bamboo tree because it is a fast-growing plant and provides several benefits, particularly with many advantages for the environment and livelihoods of communities.
According to environmentalists, the bamboo tree can resist pests more than any other plant besides not being on top of the food list for deer, rabbits and several other mammals.
"The tree is also rarely bothered by insect pests, with the exception of bamboo mites, which may be a problem in dry climates," reads a statement sent out to newsrooms by PACJA.
The bamboo tree has been found to absorb greenhouse gases and release oxygen into the atmosphere, prevent soil erosion. Its other uses range from medicinal, infrastructural, textile, utensils, musical instruments and food.
The exercise launched yesterday targets riparian and watershed areas degraded over the years, in order to stabilise riverbeds.
John Kariuki, who represented the Bidco oil company in the webinar, said that despite the Covid-19 pandemic, "we must continue to take care of the environment".
He said Bidco would plant a million bamboo trees in the Mt Kenya region.
The exercise that started Tuesday is expected to end on Thursday.