A group of feminists, who gathered at a recent forum under the aegis of the Women's Environment & Development Organisation (WEDO), has said that its vision for the Green Climate Fund (GCF) is for the facility to be one that responds swiftly to the climate finance needs of those who are at the frontlines of climate change and bearing the heaviest burdens of its impacts.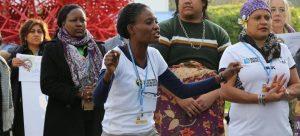 A member of the Women and Gender Constituency (WGC), Ms. Titi Akosa, who is Executive Director, Centre for 21st Century Issues, made the submission in a presentation titled "Vision for the GCF" on April 27, 2023, when WEDO hosted a special webinar session on the GCF replenishment for the WGC.
The webinar, designed for WGC network members to better understand, appreciate, and support an ambitious second replenishment of the GCF, explored the fundamental question of why feminist civil society should care about the GCF replenishment, recognising interlinkages with an overarching feminist climate and climate finance demands. It was themed: "GCF Replenishment: Why feminist civil society should engage."
According to Akosa, the GCF should likewise be a fund that ensures a rights-based approach for delivering climate finance for locally held adaptation actions.
Akosa, who spoke alongside two other alternate CSO Active Observers to the GCF, Liane Schalatek and Tara Daniel, stressed that the GCF should enable processes that present opportunities for feminists to engage and realise their vision.
"Also, the GCF should display robust gender policy and gender action plans, stakeholder consultation, country ownership and direct access," she stated, adding: "We as feminists should continue to engage the process up to the local level."
The GCF CSO observer network had earlier called for an ambitious second replenishment that more than doubles the resources committed under GCF-1, in line with ongoing efforts to set a New Collective Quantified Goal on Climate Finance that is needs-based and drastically more than the current US $100 billion goal.
They urged developed country Parties to contribute their fair share to the GCF replenishment, especially those countries that have not contributed, only contributed in the initial resource mobilisation, or not fulfilled their pledges in the past, and to deliver 100% of their commitments in the form of grants.
"While voluntary contributions from other Parties are welcome, we urge developed country Parties to be the primary contributors for GCF-2, in line with the Paris Agreement and their obligations under the UNFCCC and international law. A successful GCF replenishment serves as a clear sign of Parties' commitment to the implementation of the Paris Agreement."