Nigeria's Acting President, Prof. Yemi Osinbajo, on Thursday, July 27, 2017 in Port Harcourt, Rivers State, inaugurated an imposing fertiliser plant, built by Indorama Eleme Fertiliser and Chemicals Limited at the cost of $1.5 billion.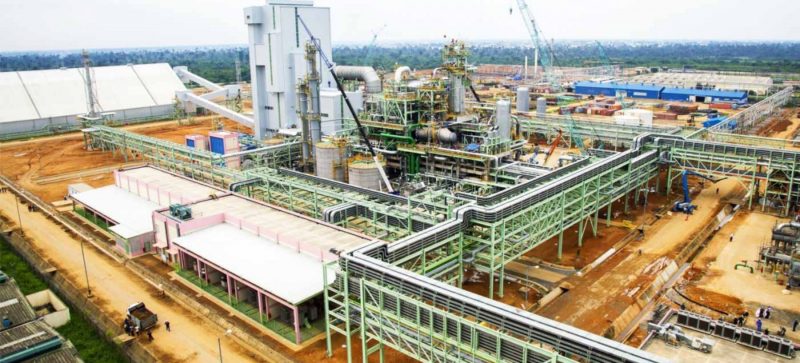 The Acting President used the opportunity to remind all Nigerians that time has come for them to grow whatever they eat and produce whatever they consume.
"What Indorama is accomplishing today is very much in line with President Buhari's vision for a country that produces what it consumes and grows what it eats. If you had to sum up our vision for the Nigerian economy in a few words, these would suffice. Grow what we eat, produce what we consume," he said.
Prof Osinbajo commended Indorama for keying into the Presidential Fertiliser initiative which President Buhari launched last year to make fertilisers cheaper nationwide.
"At the end of last year, the President launched a Presidential Fertiliser Initiative, to ensure the availability of cheaper fertiliser to our farmers, to support what we're doing in agriculture, in the production of rice and wheat and other staples.
"That Fertiliser Initiative, now well underway, has created significant economic opportunities for companies like Indorama Eleme Fertiliser & Chemicals Limited.
"I have been informed that Indorama will this year alone supply about 360,000 Metric Tons of Urea to Fertiliser blenders, which, in turn, will produce NPK fertiliser for the benefit of farmers across the country.
"This is the kind of economic progress we're after, in which every unlocked opportunity proceeds to unlock several others, across multiple sectors of the economy."
The Acting President said that the Buhari administration will continue to support Indorama Eleme Petrochemicals Limited, which was privatised in 2006 by the Federal Government.
According to him, the company has turned out to be a huge success story. "I am glad that we're here today to see one of the success stories of the Federal Government's privatisation programme," he said.
"We will continue to support Indorama Eleme Petrochemicals Limited's expansion ambitions. Our commitment to the privatisation programme is equally assured, and we will continue to do everything to support investors to maximise the potential of their assets," he said.
Earlier in his address, the Chairman of Indorama Corporation, Mr Sri Prakash Lohia, said that the plant which has capacity to produce 1.5 million metric tons of fertiliser per annum is the largest single-train Urea plant in the world.
The Acting President also presented a Certificate of Discharge to Mr Lohia and the Managing Director, Mr Manish Mundra, for successfully accomplishing the post purchase agreement entered into with the Bureau of Public Enterprises on behalf of the Federal Government of Nigeria.
"Following the 2006 handover, the BPE carried out routine monitoring on the enterprise to ensure that the core investor adhered to and implemented the post-acquisition plan it had laid out for the company."
"Today is the culmination of that process of monitoring and oversight by the BPE. I am delighted that it is taking place on an inspiring and hopeful note, and that we are all here today celebrating a thriving and promising company. We should not take this state of affairs for granted," he said.
The Plant has a production capacity of 4000 metric tons (MT) of nitrogenous fertilisers per day or 1.5 MT per annum. The world-scale plant has been built with an investment of $1.5 billion, a huge Foreign Direct Investment, funded by the International Finance Corporation (IFC) and a consortium of 15 European and African banks and financial institutions.
Governor Nyesom Wike of Rivers State in his speech said that for Indorama to invest a whopping $1.5 billion in the state, it shows that the state is safe for investors and their investments. He called on other investors to emulate the footsteps of Indorama.
The fertiliser plant is well supported by Port Terminal at the nearby Onne Port Complex, and a gas pipeline of 83.5KM for gas supply.
The plant will bring about a green revolution in the agriculture sector not only in Nigeria but also in other parts of Africa and world at large.
Besides, making the fertiliser products to be available at affordable cost, the plant will boost crop yield to farmers and greatly help in minimising the food grain deficit in Nigeria.
The plant is said to have generated job opportunities, thereby contributing to the economic prosperity of Nigeria.
The construction of the plant commenced in April 2013 and was completed in December 2015. The commissioning activities were concluded in March 2016 and the commercial production started in June 2016.