The Opu-Nembe community in Nembe-Bassambiri, Nembe Council of Bayelsa State and host to Aiteo Eastern Exploration and Production Ltd. has accused the company of attempting to dump deadly chemical waste on its land.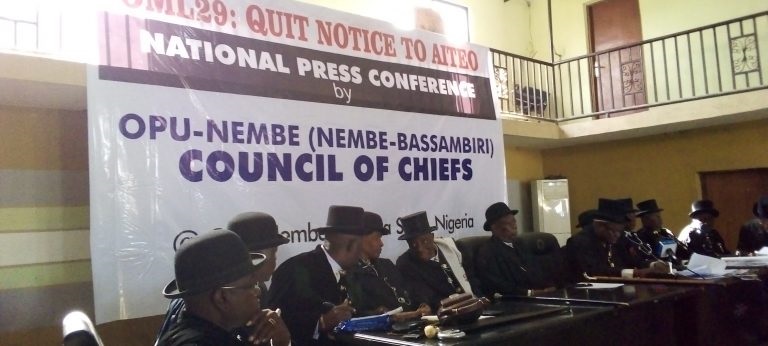 At a press conference on Saturday, November 14, 2020 where they issued a quit notice to the oil company to leave their community, the community leaders alleged that Aiteo is involved in "moves to arrange a site for a deadly chemical waste dump on our land, without proper community engagement or an environmental impact assessment".
The Opu-Nembe community chiefs at the press conference and protest march also accused the oil exploration company of "inundating the environment with repeated, massive, prolonged oil spillages and blow-out fires" while "refusing to clean up, remediate and pay compensation for years".
Generally, the community is accusing Aiteo of economic strangulation, ecological destruction, contract racketeering and corporate wickedness.
Aiteo operated the Oil Mining Licence (OML) 29 in the community. The Niger Delta oil block contains 11 oil and gas fields.
The traditional rulers and chiefs in the kingdom wore all-black outfits in what they said was a symbolic way to announce the company's death and final burial in the community.
Chief Oriango Oruwari, Chairman of the Council of Chiefs, who addressed the media, said: "The conference served as a quit notice to Aiteo, effective from November 14, after when it is no longer welcome.
"The incompetent manner this prized asset is operated has caused several oil spills in our kingdom, some of which are now receiving attention from NOSDRA, following petitions from our lawyers, though they remain uncleared and unpremeditated over a year after.
"At this rate, the remnants of our ecological resources and natural livelihoods may completely vanish during the remaining two and half years of President Muhammadu Buhari's tenure, all thanks to Aiteo.
"Consequently, we declare as follow: that the operational licence of OML 29, held by Aiteo, having expired on June 30, 2019, notwithstanding the illegal secretive renewal by the then Minister Ibe Kachikwu, should be relinquished.
"That the Federal Government owned Nigeria Petroleum Development Company (NPDC) should take over operations of OML 29, pending when a new, competent and community friendly operator takes over…"