It was indeed a green party of sorts in Isolo on the Saturday, February 25 2017 as youths, passionate for a cleaner Lagos, came out en-mass under the African Clean-up Initiative platform for "Clean-up Isolo" in an event tagged, "Green Valentine Clean-Up Special".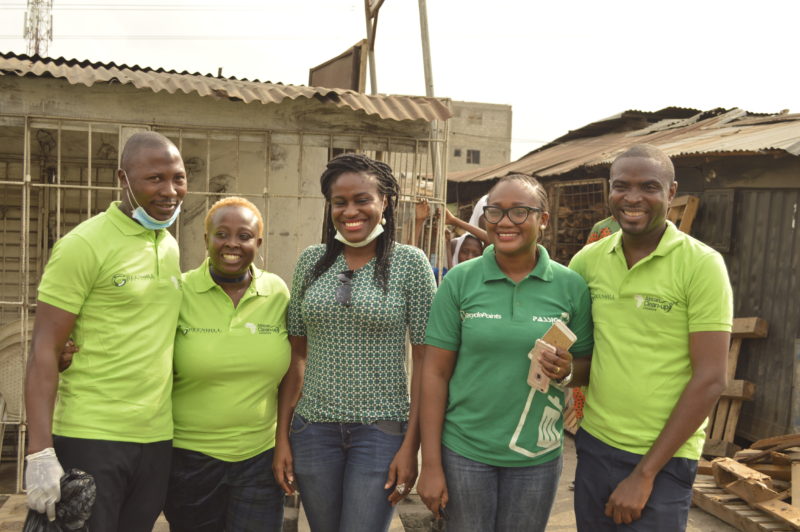 The event, which marked the 13th clean-up exercise of the Clean-up Nigeria project, an African Clean-up initiative, was organised in partnership with Greenhill Recycling to show love to the people of Isolo as well as raise environmental conscious citizens while sensitising them on the need for a clean environment.
A thrilled Alex Akhigbe, convener of the clean-up exercise, noted: "Out of the 12 successful projects that have been carried out by Clean-up Nigeria, this particular one seems to amaze me because, aside the support of volunteers from different part of Lagos and outside the state joining in the clean-up exercise, the people in the community also joined and we were able to clean all the gutters, blocked drainage and also swept the streets."
Like previous cleaning exercise of the body, the Isolo Clean-up was graced by officials of the Lagos State Ministry of Environment, Isolo Local Development Area, Lagos State Waste Management Authority (LAWMA) as well as Lolo 1 of Wazobia FM (Adaku of Jenifa's Diary), Omotunde Adebowale David, TVC News Anchor/Eco Journalist, Ugochi Oluigbo and Miss Environment International, Queen Abidemi Akinrinmade.
The event enjoyed the support of srganisations like Recycle Points, Enpact Health, FABE, Eco Nigeria, Susty vibes, Ecoprune, Shobbu, Climate Wednesday, Safety and Environment Company, Retink Media, Harvest Recycling and Passion House. And some young aspiring environmentalists under the platform of Eco Kids, WeSeperateWaste also were on ground for the clean-up.
Mr. Akhigbe appears excited to have achieved the objective behind the Clean-up Nigeria Project at the Isolo Clean-up which, according to him, is to engage communities with clean-up advocacy activities as well as to inspire and raise environment-friendly and responsible citizens in the country.