The vision to establish a state-owned investment company in Ogun State originated under the military administration of Brigadier Oladipo Diya as state governor between (1984 and 1985). The late Chief Olawale Otesile, the then Permanent Secretary in the Civil Service, was seconded to the Ogun State Property and Investment Corporation (OPIC), at inception to midwife its take-off. Chief Otesile and his team of vibrant Ogun State indigenes first wore the mantle of OPIC leadership on September 1, 1984. Otesile's team then commenced OPIC operation with very strong volition to succeed with the mandate to fully explore the potentials and opportunities that abound in border areas of Ogun State in particular and, by extension, other parts of Nigeria.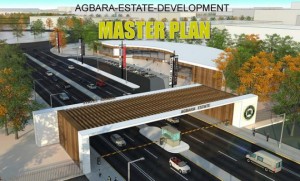 Equipped with Edict 10 of 1985 under the then military administration of Ogun State, the shrewd OPIC pioneers rose to the challenge of their callings, setting the pace of the growth of the newly-born OPIC, right from its cradle to mighty estates in Agbara, Isheri, Ikeja in Lagos, Abeokuta hill top while breaking new grounds in Makun New City by Sagamu Interchange on Lagos-Ibadan Expressway.
The self-sustaining government-owned statutory corporation has not only stood firm on the ladder of revenue generation, and reaching the peak of the rungs at 30, OPIC is beaming smile of great promises to all and sundry. Its core objectives and responsibilities are centred on establishing residential and industrial estates that offer affordable accommodation.
The infrastructure provided over the years in OPIC estates and commercial buildings spread all over now serve as economic poles of attraction for Ogun State investors. Notable of these estates and commercial buildings are OPIC estates in Agbara (off the Lagos-Badagry Expressway), Isheri (off the Lagos-Ibadan Expressway), Abeokuta (along the Abeokuta-Sokoto Expressway, and commercial plazas in Abeokuta headquarters, Isheri and Mobolaji Bank-Anthony Way, Ikeja.
In furtherance pursuit of the goal to reposition OPIC, Governor Ibikunle Amosun appointed Babajide  Odusolu as his Special Adviser on Properties and Investments with Management responsibility for OPIC as its substantive Managing Director/Chief Executive.
At the inception of this present administration, OPIC had a review of operations that culminated in a focused re-orientation and overhaul of the Corporation's operating strategy and institution of new business direction.
To ensure enhanced performance, OPIC's operation were merged with those of Gateway City Development Company Limited (GCDCL) in 2013. Through this merger, OPIC regained operational control over 22 hectares of land located at Isheri now christened Isheri Commercial City and 750 hectares located at the Sagamu Interchange, now known as New Makun City.
Odusolu embarked on series of developmental projects aimed at making life more meaningful for residents and industrialists in OPIC estates. These include housing units to help reduce massive housing deficit in the country. In the last three years, OPIC has witnessed institutional re-orientation and empowerment, urban recreation and infrastructure and new business initiatives.
As part of the institutional re-orientation and empowerment, ushered in by the present administration since May 2011, a panel of enquiry was set up to investigate OPIC's operation in addition to comprehensive audit of OPIC activities. The audit exercise has been a periodic one and OPIC procedures in due process has always been found a 'crystal white operation'. The GCDCL/OPIC merger occurred in this process and has been of no regret.
This institutional re-orientation and empowerment policy has further encouraged OPIC to invest more on staff training and re-training, office renovation and re-designing, resolution of various security challenges and lapses across OPIC estates, particularly Agbara; crackdown on land encroachers, land grabbers' arrest and prosecution; sensitisation and regeneration of cordial relationship amongst OPIC residents, industrialists and the host communities. The enumeration of remaining illegal structures for amnesty in OPIC estates Agbara/Igbesa is also a notable re-orientation.
The partnership with Ministry of Housing/ROTH Inc. for development of a 650-hectare industrial park in Agbara, effective March 2012, is a confirmation of harmonious work relations that exists amongst government agencies in Ogun State. This synergy is gratifying in the review of project designs and creation of development guidelines; demolition of illegal structures within OPIC estates, Agbara/Igbesa after issuance of notices; completion of 18 bungalows at OPIC estate, Agbara/Igbesa between October 2013 and January 2014.
In addition, ongoing projects from January 2014 to date include the almost completed 5kms residential and 5kms industrial grade roads that commenced in January 2014 and 30 units of two- bedroom terrace bungalows in OPIC estate, Agbara/Igbesa that commenced in April 2014.
Other parts of the states are not left out in this infrastructural rebirth: the OPIC Orange Valley Estate, Presidential Boulevard, Oke-Mosan, Abeokuta that commenced simultaneously with Agbara road construction project in January 2014 is already beckoning to prospective residents to tap the serene and scenic green living of OPIC estates. The estate's first phase displays 58 semi-detached duplexes, 28 luxurious flats and recreational facilities.
The New Makun City, located at Sagamu Interchange along the Lagos-Ibadan Expressway, is show-casing Ogun State's business-friendly potentials to the whole world.
It is a thing of joy that the strong volition sown 30 years ago by the pioneers of OPIC has grown to deliver a giant Ogun State Property and Investments  Corporation ( OPIC ) with great achievements and projections that swing with the housing revolution policy of the present administration of Governor Ibikunle Amosun.
By Adebisi Adeyemi-Adesina (journalist and public relations consultant)