A former Chairman of Punch newspapers, Chief Ajibola Ogunshola, has said the practice of online journalism comes with its own responsibilities.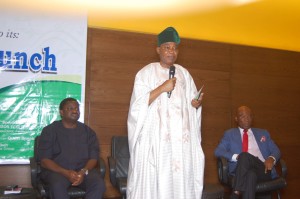 Ogunshola said just like the traditional media, practitioners of online must be ready for the consequences of their actions whether good or bad.
Speaking on Thursday at the launch of an association formed by professional journalists who have taken to online publishing, the Guild of Corporate Online Publishers (GOCOP), Ogunshola said there must be minimum standards to be maintained by online publishers, especially if they want to be taken serious.
He said online news platforms must also be able to attract the same level of confidence people have in some of the newspapers that have credibility and balance.
Speaking against the backdrop of the attention he paid to the online arm of the Punch titles when he was chairman of the newspaper, he said: "I am one of those supportive of online media.
"At Punch as chairman, I recognised online. I wanted it alongside the hard copy.  It is not for making money.
"So if you think online publishing can make you rich, that is a mistake.
"Businesses where people are rich is where you have barrier to entrance.
"With phones, you can do online publishing, hence there is no barrier of entrance.
"Almost anybody can do it as you do not require too much money to start it. Since almost everybody can start it, you are not likely to make too much money from it.
"So my encouragement is that in doing online publishing, you must have other goals, the main one being the interest to serve other purposes."
Ogunshola said it was the failure to realise this that has led to some who claimed to be online publishers to go into blackmailing.
He said: "Some have entered into online publishing trying to make money by blackmailing individuals, thus giving online publishing a bad name."
Ogunshola said it was in the light of this that he became excited when told about the existence of GOCOP.
He said he wished it had taken off long before the cyber-crime law came into effect, arguing that he is not against the law punishing anyone that has erred knowingly.
He said if every online publisher comes to the realisation that interest is paramount and not making money, there would be fewer challenges to face.
He said like some traditional newspapers that die after a while, some of the online newspapers will also soon die, adding: "But if you have a cause for which you are publishing, you should be able to stay afloat.
"But if looking for wealth, you won't be able to make it."
The Speaker of the House of Representatives, Rt. Hon. Yakubu Dogara, in a goodwill message, said online newspapers have been of immense benefit to lawmakers.
Dogara, who was represented by Hon. Abdulrazak Namdzi, said it has helped to bridge the gap between lawmakers and their constituencies.
He said for lawmakers to reach their constituencies now is just a click away on the telephone or computer.
He, however, said there was the need to identify real journalists who are into the online business.
He encouraged newsmen to "use news that will promote democracy."
Dogara also said the consciousness that there are online publications had gone a long way in checking corruption, adding: "People now know they are being watched.
"And since part of the 8th legislative agenda is to fight corruption and with the realisation that you cannot do it without the media, it is imperative for the House to work with online publishers."
Dogara equaly called on journalists to help educate Nigerians about the functions and roles of the legislative arm of government.
The Director General of the Debt Management Office, Dr. Abraham Nwakwo, congratulated GOCOP on its launch.
Nwankwo said the online news platform is a critical component of the development of the country.
He said over 55 per cent of what happens to a nation's economy is about perception.
He said since that perception is largely created by the media, there is the need for online publishers to assist in doing global marketing for the country and the economy.
The Chairman of the Independent Corrupt Practices and other related offences Commission, Barrister Ekpo Nta, said the formation of GOCOP was coming at a right time.
Represented by Hon. Isa Ozi-Salami, Nta said online journalists have "a great role to play in the tackling of corruption".
He said online publishers can be valuable whistle blowers for the Commission.
He however cautioned against reporting falsehood.
Among other guests at the occasion were the Special Adviser to President Muhammadu Buhari on Media and Publicity, Femi Adesina; the Chairman of Zinox Group, Leo Stan Eke; Bisi Kazeem, the representative of the Corps Marshal of the Federal Road Safety Corps, Boboye Oyeyemi; the Manager Corporate Social Responsibility of Airtel, Emeka Oparah; and Head of Communications, United Bank for Africa, Charles Aigbe.