The Director, Centre for Climate Change and Development (CCCD) at the Alex Ekwueme Federal University, Ndufu-Alike (AE-FUNAI), Professor Chukwumerije Okereke, has said that a justice perspective to global climate change governance is necessary to ensure that vulnerable and  marginalised countries who have contributed the least to climate change are not left to bear the greatest impact without assistance from the rich and the powerful nations.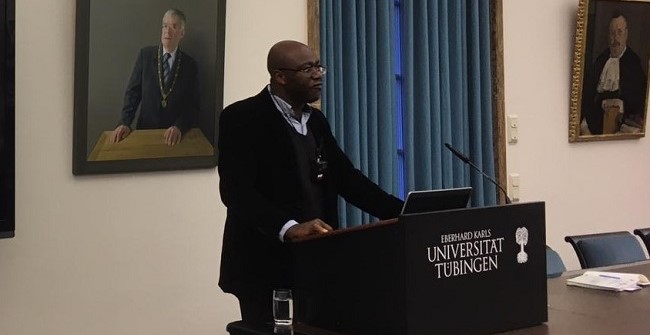 He made the submission on Tuesday, January 28, 2020 in a keynote lecture on Global Climate Justice at the University of Tubingen in Germany. The lecture was part of the GLOBUS Student Day Programme, an EU Horizon funded research project.
Professor Okereke said that, to tackle climate change, African countries need assistance from Europe in the areas of finance, technology transfer and diffusion, as well as capacity building.
He lamented the fact that majority of African Nationally Determined Contributions (NDCs) and other vital climate policies are designed and developed by foreign consultants who may not have a full grasp of the unique challenges facing Africa.
He stated that Africa was at a stage in its developmental history where it is easy to avoid lock-in to carbon intensive infrastructure. He added however that the opportunity for green infrastructure was being missed because of lack of support from the West, short term thinking and lack of climate change awareness among policy makers.
He said it was dangerous and risky for Africa to continue over reliance on finite carbon intensive raw materials for its development, warning that such an approach would make Africa miss out on the third and emerging fourth industrial revolution.
He called on Africa governments and Europe to focus on crafting a Green New Deal for Africa that includes, among others, strong focus on greening Foreign Direct Investment, promoting climate innovation and creating centres of excellence for research and policy on climate change and development.