The wealth of Nigeria is largely from oil and it is centralised mainly within the Niger Delta region. In as much as it puts a smile on the faces of Nigeria, it also accounts for some negative effects especially when it concerns damaging the environment through oil spills and gas flaring.
Oil spills are a common event in Nigeria and occur due to a number of causes, including: corrosion of pipelines and tanks (accounting for 50 percent of all spills), sabotage (28 percent), and oil production operations (21 percent), with 1 percent of the spills being accounted for by inadequate or non-functional production equipment.
The largest contributor to the oil spill, corrosion of pipes and tanks, is the rupturing or leaking of production infrastructures that are described as "very old and lack regular inspection and maintenance," according to an environmental activist and Chairman, Civil Liberties Organisation (CLO) in Bayelsa State, Alabo Nengi James.
He said that corrosion accounts for a high percentage of all spills, adding that, as a result of the small size of the oilfields in the Niger Delta, there is an extensive network of pipelines between the fields, as well as numerous small networks of flowlines – the narrow diameter pipes that carry oil from wellheads to flowstations – allowing many opportunities for leaks.
In onshore areas, most pipelines and flowlines are laid above ground. Pipelines, which have an estimatede life span of about 15 years, are old and susceptible to corrosion. Many of the pipelines are as old as 20 to 25 years.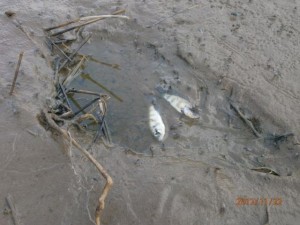 Sabotage is performed primarily through what is known as "bunkering", whereby the saboteur attempts to tap the pipeline. In the process of extraction, the pipeline sometimes is damaged or destroyed. Oil extracted in this manner can often be sold, even as sabotage and theft through oil siphoning has become a major issue in the Niger Delta states, contributing to further environmental degradation. Damaged lines may go unnoticed for days, and repair of the damaged pipes takes even longer. Oil siphoning has become a big business, with the stolen oil quickly making its way onto the black market.
While the popularity of selling stolen oil increases, the number of deaths is increasing. In late December 2006, more than 200 people were killed in the Lagos region of Nigeria in an oil line explosion. Nigerian regulations of the oil industry are weak and rarely enforced allowing, in essence, the industry to self-regulate.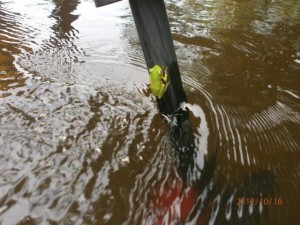 Many environmentalists in the Niger Delta region have cried out loud over incessant oil spillage in the region, one of which is Morris Alagoa of the Environmental Rights Action (ERA).
Alagoa believes oil spillage has a major impact on the ecosystem into which it is released and may constitute ecocide, immense tracts of the mangrove forests, which are especially susceptible to oil have been destroyed, spills in populated areas often spread out over a wide area, destroying crops and aquacultures through contamination of the groundwater and soils. The consumption of dissolved oxygen by bacteria feeding on the spilled hydrocarbons also contributes to the death of fish.
In agricultural communities, often a year's supply of food can be destroyed instantaneously. Because of the careless nature of oil operations in the Delta, the environment is growing increasingly uninhabitable; people in the affected areas complain about health issues including breathing problems and skin lesions. Many have lost basic human rights such as health, access to food, clean water, and an ability to work.
Vegetation in the Niger Delta consists of extensive mangrove forests, brackish swamp forests, and rainforests. The large expanses of mangrove forests are estimated to cover approximately 5,000 to 8,580 km² of land, mangroves remain very important to the indigenous people of Nigeria as well as to the various organisms that inhabit these ecosystems. Human impact from poor land management upstream coupled with the constant pollution of petroleum has caused five to 10 percent of these mangrove forests to disappear.
"We can no longer fish in our waters and farmland. Everywhere has been polluted by oil spills. We now buy fish from outside," a local farmer, Tubokekere Otuan, explains.
Chairman of Bayelsa CLO, Alabo Nengi James, said poor policy decisions regarding the allocation of petroleum revenue have caused political unrest in Nigeria, noting that the clash among governing bodies, oil corporations, and the people of Nigeria has resulted in sabotage to petroleum pipelines, further exacerbating the threat to mangrove forests.
The fishing industry is an essential part of Nigeria's sustainability because it provides much needed protein and nutrients for people, but with the higher demand on fishing, fish populations are declining as they are being depleted faster than they are able to restore their number.
Water hyacinth is an invasive species that was introduced into Africa as an ornamental plant, and which thrives in polluted environments. Water hyacinth has the capability to completely clog the waterways in which it grows, making it nearly impossible to navigate fishing boats. In recent years it has found its way into the Niger Delta especially in Bayelsa State choking out both sunlight and oxygen to the marine organisms that live there. When a species such as water hyacinth makes its way into the ecosystem, it competes with native plants for sunlight, diminishing energy resources within the marine environment, according to Alagoa.
With the loss of energy some populations will not be able to survive, or their numbers may drop beyond a point of no return, creating a threatened environment. Added to the loss of energy, water hyacinth also takes up and depletes the water of oxygen which is essential to the livelihood of all marine organisms.
According to researchers, Nigeria flares more natural gas associated with oil extraction than any other country in the world with estimates suggesting that of the 3.5 billion cubic feet (100,000,000 m³) of associated gas (AG) produced annually, 2.5 billion cubic feet (70,000,000 m³), or about 70 percent is wasted via flaring. This equals about 25 percent of the UK's total natural gas consumption, and is the equivalent to 40 percent of the entire African continent's gas consumption in 2001. Statistical data associated with gas flaring are notoriously unreliable, but Nigeria may waste US $ 2 billion per year by flaring associated gas.
Flaring is done as it is costly to separate commercially viable associated gas from the oil. Companies operating in Nigeria also harvest natural gas for commercial purposes, but prefer to extract it from deposits where it is found in isolation as non-associated gas. Thus associated gas is burned off to decrease costs. Gas flaring is generally discouraged as it releases toxic components into the atmospshere and contributes to climate change. In Western Europe, 99 percent of associated gas is used or re-injected into the ground. Gas flaring in Nigeria began simultaneously with oil extraction in the 1960s by Shell-BP. Alternatives to flaring are gas re-injection, or to store it for use as an energy source. If properly stored, the gas could also be utilized for community projects.
Gas flaring releases large amounts of methane, which has a high global warming potential. The methane is accompanied by the other major greenhouse gas (GHG), carbon dioxide, of which Nigeria was estimated to have emitted more than 34.38 million metric tons of in 2002, accounting for about 50 percent of all industrial emissions in the country and 30 percent of the total CO2 emissions. While flaring in the west has been minimised, in Nigeria it has grown proportionally with oil production.
By Oyins Egrenbido