The Okomu Oil Palm Company says it has resolved its misunderstanding with one of host communities, Imaroghioba, promising to sustain its corporate social responsibilities and obligations to its 29 hosts.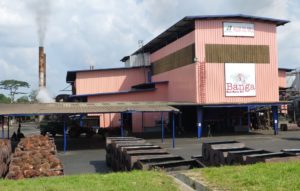 The company's Communications Officer, Mr Fidelis Olise, confirmed the resolution of the feud in a telephone interview on Saturday, May14, 2022, in Benin City, the Edo State capital.
He said both parties had agreed to maintain existing cordial relationships.
Olise said representatives of the Iyase (traditional ruler) of Udo, Chief Patrick Igbinidun, the police and Army, witnessed the peace meeting at the company's headquarters, Okomu in Ovia South-West Local Government Area (LGA) of Edo.
He said adopted resolutions by the parties included that the Imaroghioba, popularly known as AT&P acknowledged the trenches being dug at the Okomu oil company, were situated within its (company) property.
The other resolutions were that AT&P community confirmed that it had time past, assisted the company in the arrest of those engaged in the theft of its oil palm fruits.
Olise said, "They also acknowledged that the company has assisted them with several projects under the company's corporate social responsibility scheme.
"And that the digging of the trenches should continue while the company should assist the community to create alternative road in areas where the trenches are seen as blockage of the road as claimed by the community.
"It was resolved that there should be a neighbourhood security watch, to help both the company and the community.
"That disengaged workers from the company, still resident in the community, should be asked to leave because they now posed a threat to both the company and the community," he said.
Olise added that the Iyase of Udo, being the traditional head, "who supervises the affairs of AT&P and surrounding communities, should increase his interaction and intervention mechanism on issues likely to snowball into crisis".
The company's headquarters in Okomu, is bounded by 29 host communities, which plantation spread across three LGAs.
The LGAs are Ovia South-West, Uhunmwode and Ovia North-East.
Members of AT&P had on May 5, protested the company for digging trenches on its property, which they claimed blocked part of the community.
By Kevin Okunzuwa