Women of Ogoniland in the Nigerian Niger Delta region have lamented how they are, after decades of oil exploration by Shell in their community, suffering extensive land degradation and deprivation.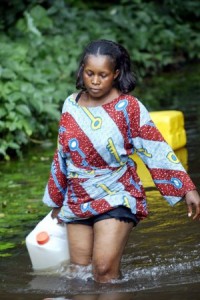 They lamented recently at a gathering in Bori-Ogoni, Khana Local Government Area of Rivers State, that the venture has greatly impoverished the people with heavy pollution of their land and waters and resulting destruction of their livelihoods as farmers and fishermen.
They noted that the United Nations Environment Programme (UNEP) report raised serious alarm over pollution of Ogoni land and agreed that the health of Ogoni women and elders have been greatly impacted by the ecological impunity. They listed infertility, infant and maternal mortality, diabetes, cancer, stroke, blindness, respiratory diseases and shortened life expectancy as direct consequences of the pollution.
The women condemned in particular the attempt to side-track the UNEP recommendations by establishing the Hydrocarbon Pollution Restoration Programme (HYPREP) without any legal backing and without a clear mandate, instead of establishing an Ogoni Environmental Restoration Authority and a matching fund.
They also regretted that, three years after the report confirmed that their water bodies have been contaminated with cancer-causing (or carcinogenic) agents, they were still forced to depend of such water sources for drinking, bathing and other uses.
They condemned continued attempts to grab the remaining land for commercial agriculture without the consent of the people.
After two days of consultations, paper presentations and dramatisation, poetry and songs at the forum with the theme "Women and Ogoni Environment: Memories and Hope; Ogoni Women as Ecological Defenders", the women demanded the immediate and full implementation of UNEP Report including the scrapping of HYPREP, establishment of an Ogoni Environment Restoration Authority, Ogoni Environment Restoration Fund as well as a Centre of a Excellence for environmental monitoring and remediation.
Besides an immediate provision of safe drinking water in all impacted communities and commencement of clean-up of Ogoni environment as well as other polluted areas of the Niger Delta, the women demanded that oil in Ogoniland should remain under the ground while compensation paid for harm suffered.
While calling for the creation of employment opportunities and establishment of a specialist health institution in Ogoniland to address the health impacts of the pollution in the land, they likewise demanded an end be put to further contamination and seizure of their scare lands.
The women also resolved to form a network of Ogoni Women Ecological Defenders (OWED) to network with other community-based organisations in Nigeria and to monitor, speak up and work for environmental justice in Ogoniland. They will also monitor and regularly review actions taken with regard to the UNEP recommendations for the restoration of the Ogoni environment.
The women also considered methods of environmental monitoring, networking, ecological defence and ensuring re-source democracy.
The event was organised by the Health of Mother Earth Foundation (HOMEF), Ogoni Solidarity Forum (OSF), Federal Ministry of Environment and United Nations Development Programme (UNDP).
By Michael Simire