The Environmental Rights Action/Friends of the Earth Nigeria (ERA/FoEN) has urged the Federal Government to mandate the implementation of the United Nations Environment Programme's (UNEP's) emergency measures on Ogoniland cleanup.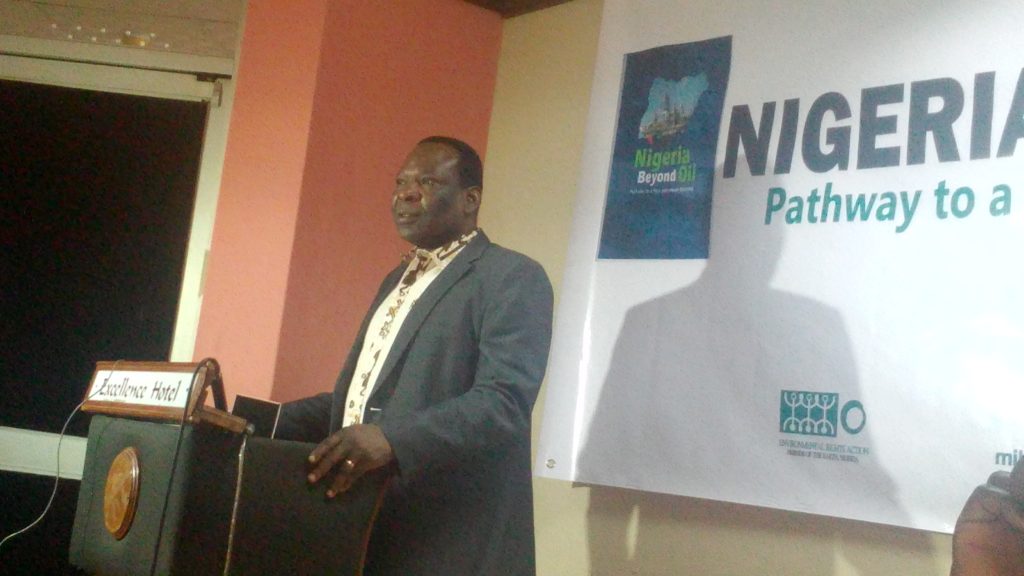 Dr Godwin Ojo, Executive Director of the group, made the plea on Thursday, June 18, 2020 at a presentation of its report on Ogoni Cleanup, entitled: "No Cleanup, No Justice" held in Benin City, Edo State and Port Harcourt, Rivers State.
While Ojo personally spoke at the event in Benin, he was however represented at the other session by Mr Michael Karikpo, the Programme Manager, ERA Port Harcourt office.
According to him, there is an urgent need for the Federal Government to overhaul its agency, the Hydrocarbon Pollution Remediation Project (HYPREP), to ensure transparency and significant cleanup of Ogoniland.
"After nine years of promises without proper action and decades of pollution, the people of Ogoniland are not only sick of dirty drinking water, oil-contaminated fish and toxic fumes. They are sick of waiting for justice, they are dying by the day. The Nigerian government should acknowledge this project has been a failure and reinvigorate HYPREP with technical skills and strategic thinking, fully involving the community.
"For the clean up to succeed at a greater pace, we call on the Federal Government to urgently reorganise and completely overhaul HYPREP, to ensure that it is able to deliver a significant cleanup in Ogoniland.
"We urge the Federal Government to also remove all administrative, financial and political obstacles that are stalling the progress of the cleanup process.
"We also urge government to finally ensure UNEP's emergency measures are implemented.
"Government should show more commitment on transparency and investigate any allegations of conflicts of interest and failures to the cleanup," he said.
Ojo stated that HYPREP had so far neglected to conduct its operation in a transparent and accountable manner.
According to him, the public still does not have access to its work/implementation plans and there is a huge opaque wall as regards its budget and expenditures.
"By May 2020, researchers observed that a vast majority of the 21 less complex sites had closed down.
"A few sites that were still working scaled down their workforce to essential personnel and five community labourers due to the COVID-19 lock down in parts of Rivers State," he said.
He noted that the 21 sites currently being cleaned up by HYPREP covered only a fraction, about 11 per cent, of the total area identified by UNEP.
"No site has been entirely cleaned up.
"Unfortunately, about one and half years after contracts for these sites were awarded with the expectation that they would be concluded within six months, none has been completed.
"Most sites have engineering problems and there are frequent reports about tension with the communities.
"For more than five decades, the people of Ogoniland, in the Niger Delta, have struggled against oil pollution, destruction of the environment and human rights violations.
"In 2011, a ground-breaking report by the United Nation Environment Programme (UNEP), on oil pollution in Ogoniland, acknowledged the devastating impact of the oil industry.
"It made concrete recommendations for emergency measures to support affected communities and clean-up the environment," Ojo explained.
Some of the participants at the event in Port Harcourt expressed displeasure that, nine years after the launch of UNEP report, the Ogoni people still suffer from consequences of oil pollution with no tangible remediation.
Dr Patience Osaroejiji, representative of Ogoni women and a native of Alode, Eleme, one of the heavily polluted sites, criticised the non-implementation on the emergency measures as stated in the UNEP report.
"Alode water has been contaminated since 1998 and our people have been living without good water.
"Our women are suffering most because they are the people who go to farm.
"When they go on that polluted ground, bend down, weed their grasses, you see them inhaling all the pollution into their body system.
"This later leads to miscarriages, fibroid, cancer and all sorts of other life-threatening diseases," Osaroejiji said.
Some international observers likewise joined in the discourse.
Osai Ojigho, Amnesty International Nigeria, said: "The discovery of oil in Ogoniland has brought huge suffering for its people. Over many years we have documented how Shell has failed to clean up contamination from spills and it's a scandal that this has not yet happened.
"The pollution is leading to serious human rights impacts – on people's health and ability to access food and clean water. Shell must not get away with this – we will continue to fight until every last trace of oil is removed from Ogoniland."
Colin Roche, Friends of the Earth Europe said: "Nine years on, there is still no clean-up, no 'emergency' health and water measures, no transparency and no accountability. Without urgent action there will be no justice. While oil companies like Shell spend millions greenwashing their image, tens of thousands of people continue to suffer from their pollution and negligence.
"European governments like the UK, the Netherlands, France and Italy must act to support a truly effective clean-up and ensure these companies are held accountable for the devastating pollution of the Niger Delta."
Key findings of the report include:
Work has begun on only 11% of polluted sites identified by UNEP, with only a further 5% included in current clean-up efforts, and no site has been entirely cleaned up.
Actions classified by UNEP as "emergency measures" – immediate action on drinking water and health protection – have not been implemented properly; there are still communities without access to clean water supplies.
Health and environmental monitoring have not been carried out.
There has not been any public accounting for how the $31 million funding provided since 2018 has been spent.
11 of 16 companies contracted for the clean-up are reported to have no registered expertise in oil pollution remediation or related areas.
HYPREP has numerous conflicts of interest as Shell continues to be involved in the governing boards for the clean-up and even places its own staff in HYPREP.
By Precious Akutamadu