Governor Godwin Obaseki of Edo State says he intends to issue an Executive Order that will stop further deforestation and encroachment on the land belonging to the Ogba Zoological Garden and Nature Park in Benin City, the state capital.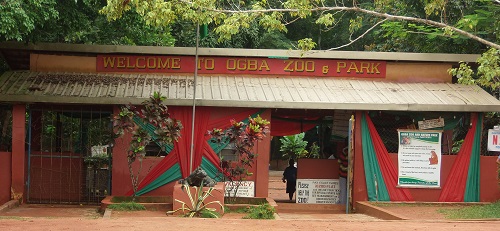 The governor made the disclosure recently while receiving the report of a committee set up by the government to investigate the allegation of encroachment on the land belonging to the zoo.
Obaseki said his administration would no longer entertain any applications from any community for the purpose of deforestation.
"The Secretary to Edo State Government, Osarodion Ogie, will set up a team that will ensure full effect of this report within this month, July. There will be no delay at all regarding this report," he assured.
He maintained that his administration would set up a forestry commission that would come up with clear policies on how to protect the state's forest resources.
The governor assured the members of the Ad-hoc committee that the patrimony (Ogba Zoo) would be re-acquired no matter who has encroached on the land.
"I want to assure you that our patrimony will be re-acquired. We will do all that is needed to re-establish the zoo the way it ought to be, no matter who is involved," he added.
Obaseki described as sad, the attitude of those who were given the responsibility to protect the asset as they did the contrary. "We as a government have a clear mandate from the people to re-establish the essence of governance. We will implement the report without fear or favour," he promised.
Earlier, the Chairman of the Ad-hoc Committee and Solicitor General/Permanent Secretary, Ministry of Justice, Oluwole Iyamu, said their work was hindered by the lawlessness of the people in the area where the investigation was carried out, as they had to work under the protection of the police, the Department of State Security Service (SSS) and the military.
He advised government to rely on security agencies in enforcing whatever decision that would be arrived at after studying the report because, he added, the area had become a lawless zone.
Iyamu said the committee observed that the major challenge facing the Zoo was the failure of institutions, governance and the people in authority.
He expressed shock "that an institution like Ogba Zoological Garden and Nature Park has no survey plan but just a sketch which attempts to demarcate or describe what the zoo should look like."
Iyamu added: "The crisis of the Zoo began in year 2,000 during the administration of Chief Lucky Igbinedion which reserved land for some communities for deforestation. The lack of coordination between the Ministry of Environment and the Ministry of Lands and Survey led to the encroachment on over 17 hectares of land belonging to the zoo. As at today, over 60 per cent of the original land belonging to Ogba Zoo has been taken over by land developers with construction work currently on-going."