President Barack Obama of the United States on Wednesday hailed the fact that enough nations have ratified the Paris climate accord for it to enter into force, telling reporters gathered in the Rose Garden, a garden bordering the Oval Office and the West Wing of the White House in Washington, DC: "Today is a historic day in the fight to protect our planet for future generations."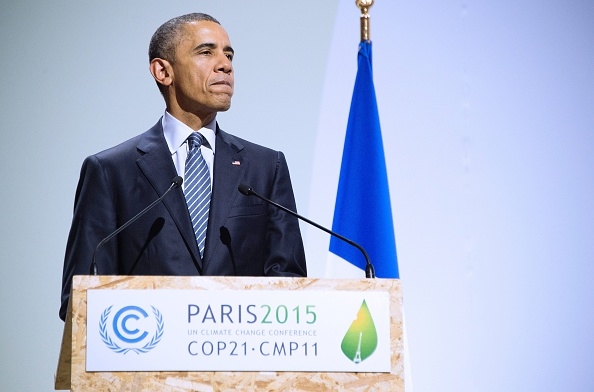 The European Parliament voted on Tuesday by a wide margin to join the agreement, taking the participation level past the threshold required for the treaty to take effect.
Ratification by at least 55 countries representing 55 percent of global emissions was needed for the agreement to enter into force. Before the Tuesday vote, 62 nations accounting for 52 percent of the world's greenhouse gas emissions had joined; seven members of the European Union have now individually ratified the accord, including Germany and France, which will ensure that it crosses the 55 percent threshold. There is a 30-day period before the agreement takes effect.
"Today the world meets the moment," Obama said. "And if we follow through on the commitments that this Paris agreement embodies, history may well judge it as a turning point for our planet."
The president said the United States had played a pivotal role in brokering the agreement through both international diplomacy and the adoption of domestic regulations that have "changed, fundamentally, the way that we consume energy."
"One of the reasons I ran for this office was to make America a leader in this mission," he said.
Obama noted that the voluntary targets that nearly 200 nations agreed to as part of last year's deal will not be sufficient to keep global temperature rise to "well below" 2 degrees Celsius (3.6 degrees Fahrenheit), compared with pre-industrial levels: "Even if we meet every target embodied in the agreement, we will only get to part of where we need to go." But he added that the agreement will avert some of the worst climate impacts and send a powerful signal that could "open up the floodgates" to new investment in renewable energy and other technologies that will cut the world's carbon output.
"So this gives us the best possible shot to save the one planet we've got," Obama said.
But Republicans, including House Speaker Paul D. Ryan (Wisconsin), said the voluntary carbon reductions the United States has agreed to could lead to curbs on energy exploration that could punish poor Americans much more than the rich.
"The Paris climate deal would be disastrous for the American economy. It carelessly throws away the great gains that the United States has made over the past decade in energy development," Ryan said in a statement. "The abundant, low-cost energy that we have unlocked will now be shut in the ground, eliminating the economic growth and jobs that come with development."
Obama appeared undaunted by such criticism. In the weeks ahead, he said, international negotiators are focused on finalising new agreements that would impose limits on the airline industry's greenhouse gas emissions and on hydrofluorocarbons, which are used in refrigeration and air-conditioning equipment, "all of which will help build a world that is safer and more prosperous and more secure and more free than the one that was left for us."
"That's our most important mission, to make sure that our kids and our grand-kids have at least as beautiful a planet, and hopefully even more beautiful, than the one that we have," Obama said. "And today, I'm a little more confident that we can get the job done."
By Juliet Eilperin, The Washington Post