The Oando Foundation of Nigeria, Sumitomo Chemical of Japan, with the technical support of the Nigerian Conservation Foundation (NCF), organised a community clean-up exercise at Ijora Badia and Ishaga Mushin in Lagos State, themed: "Clearing of drainage, community sensitization & recycling awareness campaign".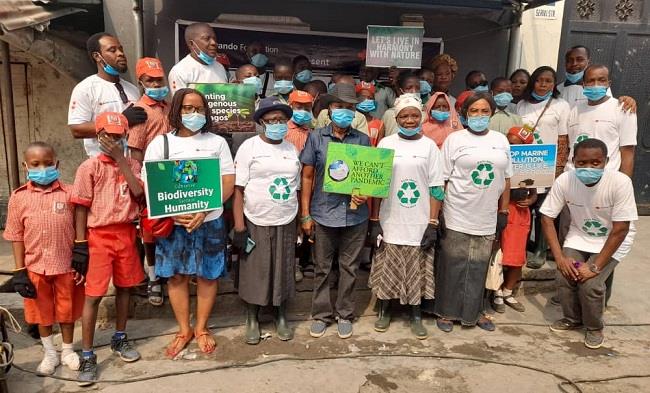 This initiative is aimed at promoting environmental education and sustainable action for pupils in target schools and host communities in Lagos State. This year's activity is a follow-up to the project that commenced in the year 2020 involving five primary schools and three communities in Lagos State.
The activities were carried out at Ireti Owoseni Street, Badia Ijora, on Tuesday, January 25, 2022, while that of Ishaga Mushin was held at Seriki Street on Thursday, January 27, 2022. Some pupils and teachers of Badia Primary School, Ireti Owoseni Primary School, Olojowon Demonstration Nur/Pry School teamed up with the youths and residents of the area to clean their environment. In the same vein, some pupils of Ishaga Close Primary School and Islamic Model Primary School joined the community members to carry out the exercise.
Sunday Fateye, Chairman of Badia Central Community, appreciated the initiative and urged his community members to imbibe the culture of cleanliness.
He said: "Maintaining a clean environment is everyone's responsibility. So, all my people should get involved for us to have a better environment."
Alhaji Mohammed Ndana, Zonal Chairman, Parents Forum, Mushin Chapter, commended the efforts of Oando Foundation and NCF in bringing such initiative to their community. He stated that "this effort is a very good one and we thank the organisers. This exercise will be a way of telling people to take their environment and health seriously."
Ms. Tonia Uduimoh, the Project Lead for Oando Foundation, revealed: "The 'Clean Our World' project is an Oando Foundation initiative in partnership with Sumitomo Chemicals aimed at promoting environmental education and sustainable actions against climate change in target schools and communities in Lagos State. The environment is our home. We must not relent our efforts towards sustaining it for the future."
Mrs. Abidemi Balogun, Head of Environmental Education for NCF, added: "The focus of this project is to ensure sustainable waste management practices while improving healthy living. We engaged the community members in clean-up exercises and sensitisation on proper waste management. Our message is simple, adopt a better method of waste management in your environment, practice clean surroundings always, then teach the young ones the way."