The Civil Society Legislative Advocacy Centre (CISLAC), a civil society organisation (CSO), has called for repair or removal of non-producing oil installations in the Niger Delta region.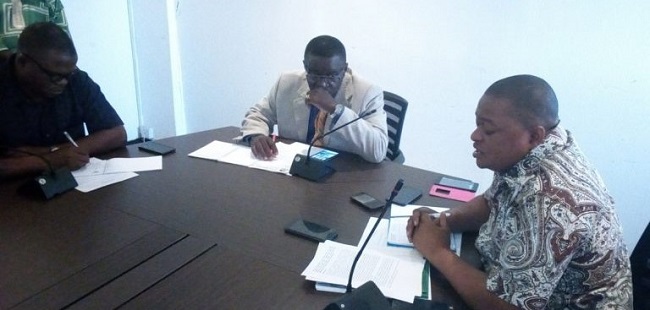 Executive Director of CISLAC, Malam Auwal Ibrahim, made the call during a courtesy visit to Mr Peter Idabor, the Director-General, National Oil Spill Detection and Response Agency (NOSDRA), in Abuja on Friday, November 9, 2018.
Represented by Mr Salaudeen Hashim, the Senior Programme Officer of the centre, Ibrahim said the repair or removal of idle oil facilities was key in any environmental remediation.
The appeal comes ahead of the commencement of the much-awaited cleanup of Ogoni land in December.
''Oil assets in the area still have the tendency of repoluting the environment when they are not serviced or decommissioned.
''So, we believe that we need to strengthen collaboration and coordination, among agencies of government, toward the realisation of a successful remediation, restoration and rehabilitation of Ogoni land,'' he said.
Ibrahim also said that getting multinational oil companies to properly handle their facilities in the region was part of an advocacy partnership deal that CISLAC was seeking with NOSDRA.
The proposed partnership is aimed primarily to support implementation of the United Nations Environment Prgramme (UNEP) report on the Niger Delta.
Under the proposed collaboration, the group is asking NOSDRA to institutionalise regular interface between the oil corporations operating in the region and CSOs.
''The objective is to strengthen collaboration and coordination among agencies of government toward the realisation of a successful remediation, restoration and rehabilitation of Ogoni.
''Such forum would enable stakeholders to further review remediation techniques, where necessary, and appraise the performance of the emergency measures to see where gaps exist and the available alternatives.
''It would also support regular and objective feedback on what is happening and what needs to be done toward creating a safe and healthy Ogoni in particular and the Niger Delta in general.
''NOSDRA can do this under its mandate of striking partnership with internal and external stakeholders, including multinational oil companies, private interest, communities and civil society groups,'' he said.
Responding, Idabor lauded CISLAC for the idea which he said was a commendable departure from the antagonistic disposition of most CSOs to government.
Idabor said NOSDRA was willing to partner with CISLAC, noting however that the agency's role in the Ogoni cleanup was mainly regulatory.
He immediately directed his officials to raise a three-man team to liase with CISLAC to work out the proposed partnership deal.
The NOSDRA boss sought the assistance of CSO in producing database of abandoned installations in the Niger Delta to guide the anticipated engagement with the companies concerned for necessary action.
By Harrison Arubu