The UN Office for Coordination of Humanitarian Affairs (UN-OCHA) says an estimated three million displaced persons face critical food and nutrition insecurity in the northeast of Nigeria.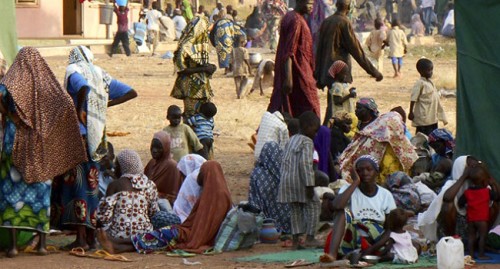 OCHA, in its humanitarian situation report for the month of June, said no fewer than 1.7 million persons were displaced by the conflict in the region in the past nine years.
According to the fact sheet, the number of people estimated to be facing critical food and nutrition insecurity is projected at three million, following recent assessments exercise in the area.
It said that humanitarian actors and partners were carrying out a re-targeting exercise in Borno and Yobe to ensure that the most vulnerable people receive food assistance.
OCHA also said: "Large-scale displacements continue to take place weekly; in the past seven months, since hostilities intensified in the northeast, more than 130,000 people have been displaced.
"In May alone; 21, 207 people arrived in various locations. Bama, Ngala, Gwoza, Dikwa and Biu recorded the highest number of new arrivals.
"These movements present major humanitarian challenges as resources are already overstretched in the locations where these civilians arrived.
"Given that military operations have been announced to continue throughout the 2018 rainy season, displacement trend is likely to continue until end of August.''
To cope with the situation, the UN agency disclosed that it had adopted a contingency response plan for the expected high-level displacement due to military operations.
It explained that the plan aimed to provide life-saving assistance to about 115,000 IDPs, expected to move from hard-to-reach areas to key towns in Mobbar, Kukawa, Monguno, Ngala, Kala Balge, Dikwa, Bama, and Gwoza local government councils of Borno.
"About 41.7million dollars is urgently needed to ensure sufficient preparedness and response activities to facilitate life-saving assistance for the new arrivals.
"These include shelter and non-food items; health care, food, water and sanitation, protection and nutrition," it said.
The organisation revealed that it had initiated resource mobilisation efforts for the Rainy Season Contingency Plan, to support 463,000 vulnerable persons in extreme weather localities such as Bama, Damasak and Rann.
OCHA noted that it had already commenced distribution of life-saving items including food, seeds, medicines, emergency shelter, non-food items and hygiene kits.
The UN humanitarian body expressed satisfaction with effective response to control cholera outbreak in Adamawa, Borno and Yobe States, recorded between February and May.
It lauded the timely response of the Water, Sanitation and Hygiene (WASH) programme and government to control the disease, adding that surveillance, monitoring and hygiene promotion activities were ongoing in the affected areas.
The document further showed that the agency had set up five humanitarian hubs in Maiduguri, Gwoza, Bama, Ngala and Dikwa while additional four others would be established in Banki, Damasak, Monguno and Rann liberated communities.
OCHA explained that the hubs were designed with safe accommodation and internet connectivity, to enhance aid workers' presence in the field and stimulate effective response.
"Following an early recovery perspective, the maiden Lake Chad Basin Governors' Forum for Regional Cooperation on Stabilisation, Peace Building and Sustainable Development was held in Maiduguri between May 7 and 8.
"The aim was to promote continuous dialogue to strengthen coordination and collaboration on cross-border initiatives at the sub-national level around the Lake Chad Basin.
"In preparation for the 2019 Humanitarian Needs Overview, data collection for a multi-sector needs assessment will be launched by mid-June in Borno, Adamawa and Yobe, while data analysis is expected to start in July.''
The organisation noted, however, that despite the generosity of donors, humanitarian response in the northeast was hampered by lack of fund for the 2018 Humanitarian Response Plan (HRP).
"As at May 31, only 39.7 per cent of the $416.4 million total funds needed have been received, according to the funding levels reported on the Financial Tracking Service (FTS).
"For the response to be sustainable and to avoid interruption in life-saving services, it is crucial that additional funding is urgently received across all sectors,'' OCHA stated.
By Rabiu Sani