Sunny Drake Productions, in partnership with Why Not Theatre Canada, has announced the launch of a new climate change podcast created by Sunny Drake called "Climate Change and Other Small Talk".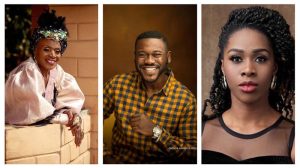 The theatrical podcast addresses the pressing global issue of climate change in collaboration with Nigerian-based Production Company and eight others worldwide, including production companies in Canada, Australia, India, Mauritius and more, each producing an audio drama addressing climate change from a local perspective and proffering a local solution.
Climate change is one of the most critical challenges of our time, with severe impacts on our environment, communities, and economies. It has become imperative that the conversation about the effects is discussed continuously.
The theatrical podcast is guaranteed to ignite the inner climate warrior in audiences while offering global perspectives on the climate crisis. The podcast's first episode launched on Earth Day, and subsequent episodes released weekly to listeners, the podcast aims to impact the environment and build a more sustainable future positively.
The Founder of Thespian Muse Production Company, Omoye Uzamere, commented: "We are excited about this new climate change podcast and look forward to significantly impacting the fight against climate change. We can create a better and more sustainable world for current and future generations. We are dedicated to collaborating with stakeholders, including governments, businesses, NGOs, and local communities, to drive meaningful change and promote sustainable solutions. This is the power of the arts."
The Nigerian first episode of the podcast series now available on Spotify, Apple and other mainstream streaming platforms, features veteran actress Taiwo Ajai-Lycett; Nollywood leading man, Deyemi Okanlawon; and actress and media personality, Omoye Uzamere. The audio play "Does the Sky Fall on Everyone?" is written by Pyemwa Deshi, directed by Omoye Uzamere and is said to be an episode that will spark conversation.
The Nigerian episodes will include a live activation event and panel discussion with industry stakeholders later this year.