Minister of Environment, Amina Mohammed, has called on Nigerians not to panic over the issue of Genetically Modified Organism (GMO). She said on Monday in a statement that, presently, no GMOs are officially grown in the country.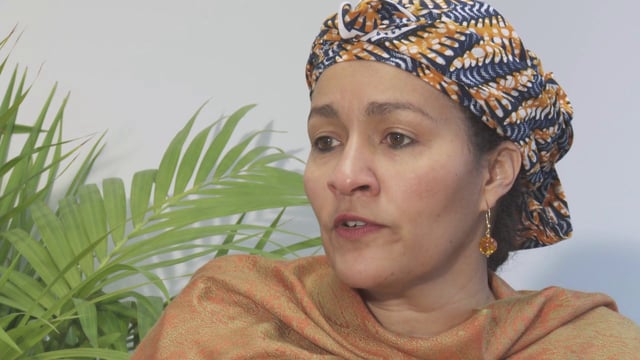 "What we have approval are for field trials. All the GMOs in Nigeria officially approved are under experimental fields; the insect resistant cotton for commercial release will still be subjected to further processes for the next two years," she was quoted as saying in the statement endorsed by Isiaka Yusuf, Director of Press in the Federal Ministry of Environment (FME).
According to her, the National Biosafety Management Agency (NBMA), established in 2015 under the FME was charged to, among others, ensure proper regulation of modern biotechnological activities and genetically modified organisms so as to protect the lives of Nigerians. She adds that, with the Act in place, Nigeria has taken laudable strides in order to adopt the necessary legal biosafety framework and policy, bearing in mind that if the country gets it right, it will guide other African countries.
The minister states that the quest for Nigeria's biotechnological advancement dates back to 2001 when it adopted a National Biotechnology Policy and subsequently established the National Biotechnology Development Agency, adding that over 20 research institutes, private biotechnology firms and universities are also players in the biotechnology sector.
Her words: "The Agency is not working alone, as it is partnering with critical stakeholders such as the Nigerian Customs, the Nigerian Civil Defence Corps (NCDC), the National Agency for Food and Drug Administration and Control (NAFDAC), the Ministry of Justice, Nigeria Agricultural Quarantine Service, National Seed Council, science and regulatory based institutions, the New Partnership for Africa Development (NEPAD) and African Biosafety Network of Expertise (ABNE).
"The NBMA has the onerous task of ensuring that potential impacts of the GMO on human or animal health, the environment and the socio-economic effects are carefully weighed and the risk assessment fully carried out before being released."
While describing the concerns on GMOs expressed by the public as legitimate, she discloses that FME, in collaboration with NBMA, is organising an experts meeting, involving civil society groups, national agencies and international organisations to address all concerns expressed, with a view to clarifying Nigeria's position on the use of GMOs.
She enjoins the citizenry to cooperate with the Federal Government in its quest to diversify the Nigerian economy for the present and future generations, adding: "Nigerians should be rest assured of the protection of their health and environment by the National Biosafety Management Agency."