Organisations from 16 countries back Nnimmo Bassey's call to support indigenous people, youth and women on the frontlines of climate change. Bassey, Chair of Global Greengrants Fund, is a Nigerian environmental and human rights activist. Global Greengrants supports community-based projects that address climate change and make our world safer and healthier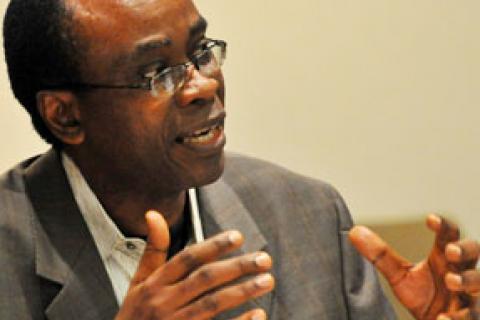 This is a defining moment in the climate crisis. In six weeks, negotiators from countries around the world will arrive in Paris for the 21st United Nations Climate Summit. You will hear world leaders call these negotiations monumental. And perhaps they will be – if participants act decisively to stop dirty fossil fuels from laying waste to our health, to our ways of life and to the planet our young people will inherit.
The real hope for a climate change solution lies in remote corners of Latin America, Asia, Africa, the Pacific Islands and the Middle East, where people are carrying out bold solutions to stave off the impacts of climate change, even as they fight to survive the forces destroying their environments and forcing them to abandon their homelands.
No matter the outcome of the official talks, the months ahead are an opportunity to give power to community leaders – including indigenous people, youth and women – on the front lines of climate chaos and environmental destruction by extractive industries. People who struggle to stay ahead of rising seas, and who take a stand every day against illegal logging, large-scale mining and dirty energy development to protect their environments, rights and ways of life.
For example, Turkana communities have thrived in northern Kenya's flat, desertscape for generations. But years of parching droughts have put this pastoral culture in danger of collapse. To make matters worse, rampant oil exploration and development threaten grazing land and, in some cases, have forced local pastoralists from their lands without their consent.
Enter recent law school graduate Ekai Nabenyo. Ekai and other youth in his native Turkana village founded the Lorengelup Community Development Initiative to teach local people about climate change and the link to oil development. In 2014, the group led a project to improve a local school, powered by solar panels. In just one year, school attendance has risen from 200 to 500 and has become a focal point for climate change education in the community.
Thanks to bold leaders like Ekai, communities worldwide have made enormous strides on their own, with limited resources, in the face of climate destruction. Imagine what they could do with more consistent flows of support.
Governments and funders gathered in Paris should earmark climate finance for local organisations that know what is needed and require resources to implement their effective projects. Civil society and funders must also join together to address these global issues. The cost is low, but the impact is great.
Over the past ten months, in partnership with the Oak Foundation and youth groups around the world, Global Greengrants has directed more than $400,000 to young climate leaders who are part of a youth movement that is gaining momentum every day. They are networking across borders and languages to raise awareness about climate change and call for significant action at the global level.
In December, front line climate activists will join Global Greengrants in Paris to network and raise their voices so that their stories of resilience and courage can be heard at the highest levels.
Those of us in communities where oil coats our waterways, super storms wipe out our farms, and water scarcity shrivels our crops know that true progress on climate chaos will happen from the ground up.
The grassroots has ignited. It is time to listen to their voices.
Signed by:
Africa Agenda, U.S.A.
African Youth Initiative on Climate Change, Kenya
BothENDS, Netherlands
Development Research Communication and Services Centre, India
Earth Island Institute, U.S.A.
Earthworks, U.S.A.
EDGE Funders Alliance, U.S.A.
Fondo Acciόn Solidaria AC, Mexico
Foundation for the Peoples of the South Pacific, Solomon Islands
Fundaciόn Tierra Viva, Honduras
Global Greengrants Fund, U.S.A.
Global Greengrants Fund / UK & Europe, U.K.
Green Camel Bell, China
Green Development Advocates, Cameroon
Green Longjiang, China
Green School Green Generation, Indonesia
Health of Mother Earth Foundation, Nigeria
International Rivers, U.S.A.
Millennium Community Development Initiatives, Kenya
National Association of Professional Environmentalists, Uganda
No REDD in Africa Network, Nigeria
Oilwatch Ghana, Ghana
Pesticide Action Network North America, U.S.A.
Pesticide Action Network International
Rainforest Action Network, U.S.A.
The Samdhana Institute, Indonesia/Philippines
Tautua Samoa Party, Samoa
Wuhu Ecology Center, China
Women Environmental Programme, Nigeria
Yayasan ParaPerintis, Indonesia