Director, Health of Mother Earth Foundation (HOMEF), Nnimmo Bassey, has bagged the Fellowship of the Nigerian Institute of Architects (NIA). The renowned environmental activist, who is a trained and practicing architect, will be decorated  today, Friday November 21 2014, at an investiture ceremony at the institute's Biennial General Meeting at Ilorin, Kwara State.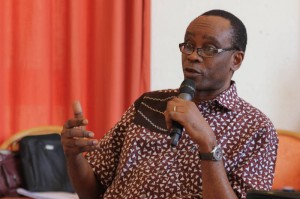 Born on 11 June 1958 in Akwa Ibom State, Nigeria, Bassey studied architecture at the University of Nigeria, Nsukka where he obtained a Bachelor of Architecture (B. Arch.) degree. He also holds a Diploma in Christian Theology from the GLIM Bible College (1999) and a Diploma in Biosafety (Gene Ecology) from the University of Tromso, Norway (2005).
In a statement, officials of his firm disclosed: "Bassey delivers architectural designs that respect contextual integrity, climatic conditions and the living patterns of end users. He interprets architecture as an intersection of social engineering and spatial arts. At the beginning of his architectural practice, Arc Bassey worked at the Physical Planning Division of the Vice Chancellor's office, University of Benin, Benin City.
"In 1991, he entered into private architectural practice as the Principal Partner of Base Consult (AFR 108) and currently practices in this capacity. His portfolio is vast and diverse. Some of his projects include the Vice Chancellor's lodges at the University of Benin and the Adekunle Ajasin University, Akumgba; Faculty of Education, University of Benin; Faith Liberation Church, Asaba; Modern Motor Parks at Uyo for Akwa Ibom State; buildings at Loyola Jesuit College, Abuja (along with Fariog Consult) and Maisonette for Alvaro De Soussa, Angola. His recent architectural work includes the on-going Festus Iyayi ASUU Secretariat at the University of Benin."
Bassey is a man of many parts. Beyond his architectural portfolio, he is a published writer and poet. Some of his notable works are The Management of Construction; Living Houses (2005); I will not Dance to Your Beat (Poems, 2011) and To Cook A Continent – Destructive Extraction and Climate Crisis in Africa (2012), which has so far been translated in Portuguese and Finnish. He also holds several awards for his active involvement in the struggle for environmental justice around the world, especially in the Niger Delta region of Nigeria.
He co-founded Environment Rights Action (ERA) and is the director of HOMEF, which he founded recently. Some of his prestigious awards are theTime Magazine Hero of the Environment (2009), Right Livelihood Award (2010), Rafto Human Rights Award (2012), He was giving the Nigerian National Honour of Member of the Federal Republic (MFR) in September, 2014. Bassey serves in leadership positions in architectural, philanthropic and environmental organizations. He is widely travelled globally.
Nnimmo Bassey is an ordained minister and serves with the Gospel Light International Ministries – New Covenant Gospel Church. He is married to Evelyn Bassey and they have three sons, Otoabasi (26), Daramfon (23) and Ukpono (17).