Gov. Inuwa Yahaya of Gombe State has directed relevant ministries and agencies in the state to activate emergency response toward mitigating the impacts of flooding and other impending environmental challenges.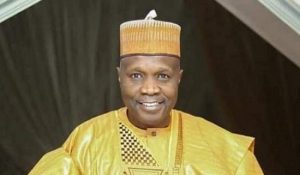 This is contained in a statement by Mr Ismaila Uba-Misilli, Director-General, Press Affairs, Government House, in Gombe, the state capital, on Tuesday, July 4, 2023.
Uba-Misilli said Yahaya gave the directive in response to the 2023 reports of the Nigerian Meteorological Agency (NiMet) and the Nigeria Hydrological Services Agency (NHSA).
NiMet had warned that some northern states, including parts of Gombe State, might experience heavy rainfall together with thunderstorms and high winds in the coming months.
"The state government has put proactive measures in place to mitigate the effects of floods, and other impending environmental challenges the state is expected to face as this year's rainy season reaches its peak.
"In the case of Gombe, NiMet and NHSA reports identified local government areas such as Nafada, Yamaltu Deba, and Balanga as having higher risk of flooding," he said.
Uba-Misilli said it was in view of the warning that Yahaya immediately gave the directive to the Ministry of Environment and Forest Resources to activate state emergency response and management resources.
He said that the measures would ensure safety of lives and property, while mitigating the effects of the impending weather events and their life-threatening consequences.
"Acting on the directive, the ministry had constituted a task force to engage all relevant stakeholders to come up with ways of mitigating the impact of the incidents in case they occur.
"These stakeholders include the State Emergency Management Agency (SEMA), Gombe State Environmental Sanitation and Protection Agency (GOSEPA), Ministries of Works, Health and Education, as well as non- governmental organisations.
"The Ministry has also engaged in aggressive advocacy and community sensitisation campaign on the new weather alert in all the envisaged flood-prone areas within the state," he said.
Uba-Misilli said the state government had also embarked on de-silting of drainages and water channels to prevent flash floods and allow for proper drainage of runoffs, especially in densely populated areas.
He said that the crisis response unit of the ministry has mapped out centres and provided it with the needed amenities and services  to shelter displaced persons during emergencies in all the Local Government Areas," he said.
By Hajara Leman